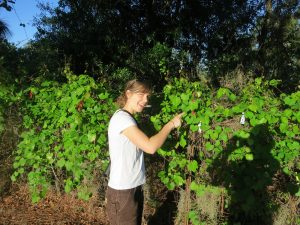 MSU Assistant Professor of Plant Biology Marjorie Weber is the lead investigator on a $1.1 million NSF grant to study evolutionary processes in wild grape plants for five years at KBS. Weber is broadly interested in the evolution of cooperation in plants, focusing on phenomena like defense mechanisms.
One such defense mechanism is a mutualistic trait called mite domatia (a word that comes from the Latin for "home"). Plants with mite domatia recruit mites to live on their leaves in tiny tufts of hair, and the mites eat pests (like small herbivores and microbes) off of plants' surfaces. This gives the mites food, and keeps the plants free from fungi like powdery mildew and harmful pests like herbivorous spider mites.
Testing out 30 different species of wild grapes, some of which have mite domatia traits and some of which don't, will allow Weber and her team to learn more about a wide variety of plant defense mechanisms.
"It's clear that mites are a really powerful defense in some situations, but not in others, and we don't know enough yet to know which situations are which," said Weber. "It's worth figuring out, because sustainable agriculture is important, and it's going to continue to get more important."
Weber predicts that some grape species that don't have protective mites defend themselves using antifungal chemistry, have adapted a higher tolerance for fungi, or live in places wh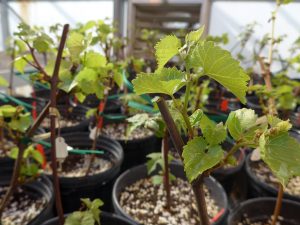 ere fungi are not a significant threat. Grapes make particularly good study species for understanding these various defense mechanisms because there's such a diversity of defense strategies across their evolutionary history.
"If we can start to learn about where in nature mite domatia have worked as a defense, and wherein nature mite domatia have not been a viable defense, then we can have a better understanding of where it might or might not work in cultivated grapes," said Weber.
Mite domatia and other defense systems could be a significant force against pathogens and fungi that inhibit the success of crops, reducing the need to spray plants with sulfur. If cultivated grapes could better defend themselves naturally, farmers could save money, reduce crop loss, and be more environmentally friendly.
"Pulling from the repertoire of natural defenses to inform the growing of our food is going to make life on this planet better," said Weber.
Grapes are not the only plants that have mite domatia – the trait is also present in crops like avocados, peppers, and cherries. This summer at KBS, Weber and her team experimented with warming chambers around cherry trees, trying to see if warming the crops by 3 degrees disrupts or enhances their mite domatia mutualism.
By the end of the summer, a semi-permanent vineyard was set up so that grapes could be planted in the ground instead of in pots for multiple field seasons at KBS's Plant Ecology Field Lab. After the past two years of preliminary experiments and laying the groundwork, the study will start in full force in the 2019 field season.
"This research project is a hybrid between something that's agriculturally relevant and something that's relevant to our understanding of how ecology and evolution work, so KBS is an incredible place to do that kind of research," said Weber. "There are so many facilities and resources at KBS for setting up agricultural experiments, and so much brainpower for these fundamental questions about ecology and evolution and how life on our planet works."