Twenty-five outstanding MSU College of Natural Science (NatSci) faculty, staff, and students were recognized for their achievements and contributions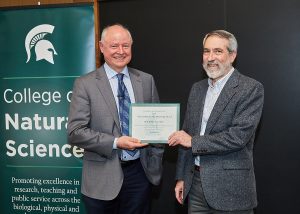 at the NatSci Annual State of the College meeting and Awards Ceremony held Nov. 16 at MSU.
Those honored included KBS faculty member Jeffrey K. Conner (Professor of Plant Biology), where he received the Junior Faculty Mentoring Award.
Conner was nominated by Jennifer Lau (former MSU Associate Professor of Plant Biology), Sarah Fitzpatrick (Assistant Professor of Integrative Biology), Sarah Evans (Assistant Professor of Integrative Biology), Marjorie Weber (Assistant Professor of Plant Biology), Gideon Bradburd (Assistant Professor of Integrative Biology), and David Lowry (Assistant Professor of Plant Biology).
The Junior Faculty Mentoring Award recognizes an outstanding mentor who effectively guides junior faculty members successfully through their academic career path. This mentor serves as a resource for channeling energies into successful research, teaching, and institutional navigations while supporting and encouraging the establishment and maintenance of a healthy balance of work and home life.
"Jeff has a way of pinpointing experimental design problems but then encouraging students to derive the solution on their own. Jeff doesn't just teach students and junior faculty science; he teaches them how to be scientists. Jeff makes Kellogg Biological Station (and PLB and EEBB) work and helps to create the collaborative culture that makes MSU and Kellogg Biological Station a world-famous place to do evolution and ecology research and to train students (and junior faculty)." – Jennifer Lau
"He has demonstrated to me numerous times how to identify the key issues facing students and how to help those students to set achievable goals for future success." – David Lowry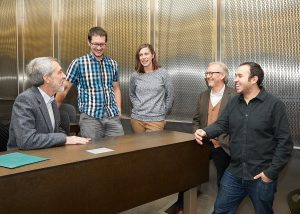 "Positive work culture is important for the development of young faculty, especially women, and Jeff has played a large part in creating a culture that respects the interests of junior faculty, something we do not take for granted." – Sarah Evans and Sarah Fitzpatrick
"Since our first interaction with Jeff on campus, he has been a safe, confidential, and level-headed guide for navigating professional decisions. More outstanding still, Jeff is not just a passive sounding board; instead, he actively seeks us out to make sure we're doing well." – Marjorie Weber and Gideon Bradburd
Congratulations to Jeff, and to the other outstanding faculty, staff, and students who were recognized for their contributions and achievements.
Photo credit: Michael Jordan/David-Lorne Photographic