The MSU Kellogg Biological Station (KBS) Long-Term Ecological Research (LTER) program recently received a 4-year renewal grant of $4.5 million from the National Science Foundation (NSF).
This new phase of the LTER, to be led by KBS faculty member Nick Haddad, will focus on what mechanisms contribute to the resilience of key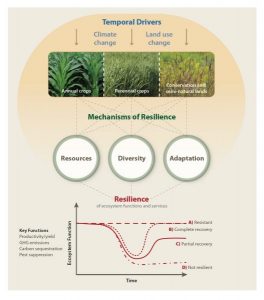 ecosystem functions and services in agricultural landscapes in the face of long-term environmental change.
By combining long-term experiments and observations with new experiments that simulate growing-season droughts, the studies will test the importance of three different resilience mechanisms; resources, diversity, and adaptation.
The NSF Panel Summary praised the KBS LTER proposal, noting that "With regard to adaptation and responses from biological and social systems the team has very compelling integration. They have a strong record and are a very productive team. The team has original ideas. Considering the role of human behavior in enhancing or reducing resilience aligns with current thinking in social-ecological systems science."
KBS LTER received its original NSF grant in 1988, and since then has had a long history of strong science and broader impacts by 338 researchers, 58 post docs, 108 grad students, and 390 grad students.
The KBS LTER is part of a national network of 28 LTER sites. The network, which was established by the NSF in 1980, includes sites that conduct research on tundra, forest, grassland, desert, wetland, and urban ecosystems. KBS is the only row-crop agricultural site in the network. Each LTER site periodically goes through a competitive grant renewal process.
In addition to NSF funding, LTER is supported by MSU and MSU AgBioResearch. KBS is also one of 13 AgBioResearch centers located across Michigan.