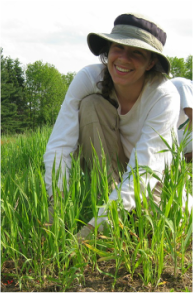 Congratulations to KBS alum Emily Grman for being recognized by the Society of Ecology Restoration with the Bradshaw Medal for outstanding publications in Restoration Ecology. The award was presented for the Restoration Ecology paper Dispersal and establishment filters influence the assembly of restored prairie plant communities (2015) by Emily Grman, Tyler Bassett, Chad R. Zirbel, and Lars A. Brudvig.
Grman, currently an Assistant Professor at Eastern Michigan University, focuses on interactions between species and the consequences of these interactions for communities, ecosystems, and restoration. This particular study tested the dispersal and establishment of native seeds in prairie habitats.
According to the SER, Grman's research provides critical insights for restoration practitioners working on their own projects in a variety of other contexts. For more information about the Bradshaw Award, and the paper, visit the Society of Ecology Restoration website.
Co-authors on the paper include Lars Brudvig, and former KBS graduate students Chad Zirbel and Tyler Bassett.