Did you know that Americans first volunteered in 1736, when Benjamin Franklin organized the "Bucket Brigade" and established the colonies' first volunteer firehouse?
Back then, people were likely motivated to protect their homes from fire more than for altruistic reasons. Today we know there are myriad benefits attained by volunteering.
According to Psychology Today, people who volunteer live longer and are healthier. Volunteering establishes strong relationships and can be good for your career. Without a doubt, it's good for society.
Nonprofit organizations like the Kellogg Biological Station (KBS) rely on volunteer help to thrive and meet their goals. KBS has a thirty-year history of working with volunteers in our community! In the 2017-2018 year, 182 people shared over 6,500 hours of their time volunteering at KBS. We couldn't do it without them!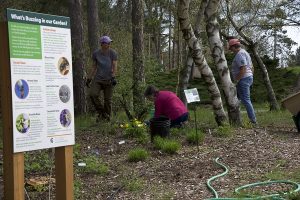 In a recent poll of active volunteers, one Bird Sanctuary Tour Guide said, "I volunteer because it brings together two of my loves – kids and birds." Susan, an 8-year veteran of the Resource Center volunteer team affirms, "Being drawn to the outdoors, I felt comfortable when I visited the Bird Sanctuary and wanted to be there to help visitors enjoy this beautiful spot. I help in the Resource Center because I like talking to people about the birds, trails, and grounds. I especially love when grandparents bring the grandkids as they did their own kids in the past. I feel valued and appreciated by the staff, and enjoy being a part of a group with shared interests and beliefs in the conservation of wildlife". Another volunteer who works in both gardens and the store enjoys her involvement because she finds KBS "a very worthwhile enterprise, for the environment and for the community".
Other volunteers are looking for new adventures. Ellen says, "I was looking for a volunteer opportunity and didn't want to stuff envelopes. I want something a little different. The first two women I volunteered with as a tour guide had unique interests. One kayaked and the other fly-fished. I knew I was in the right place!"
Roz, who has 6+ years' experience at the Kellogg Manor House and at the Bird Sanctuary gift shop, volunteers because "After retirement, I needed something to do. I'll tell you, if my employer had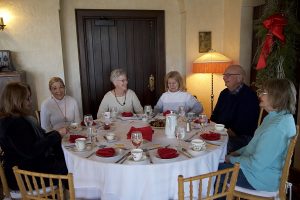 treated me as well as KBS does, I'd still be working". Roz enjoys the sense of purpose volunteering provides, giving her the chance to learn something new every time she works and getting to know people she would never have otherwise met. "I've learned about birds, cows, gardening, environmental issues, and people skills. Volunteering is fun and contributes to the overall goal of KBS, which is a fantastic and underrated resource in our community".
Ann joined the volunteer garden crew last summer, driven by her desire to learn how to grow native plants. "I feel appreciated for my efforts and certainly have learned a lot. I plan to continue volunteering on Tuesday mornings. Working alongside the other volunteers have taught me much also."
Martie, who has been volunteering in the Resource Center for 15 years states: "Staff at the Sanctuary thank me for my service and boost me up, making me feel like a valuable part of the team. It is something I do to 'give back' to the community. I enjoy my time there. If I didn't like what I do, I wouldn't continue".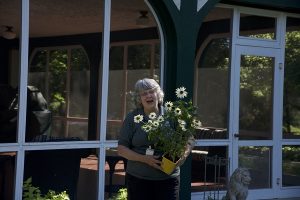 Why volunteer at KBS? Every volunteer in our poll responded that they do it is because of the genuine appreciation for what their efforts mean to the staff. "I have grown fond of the staff and look forward to seeing everyone when I volunteer," says one volunteer who has been on the scene for three years. "We are told in many ways how much our time and efforts are genuinely appreciated, and I've made new friends, too!" Sandy, a 4 year veteran of the Resource Center says" I enjoy answering the visitor's questions, listening to their stories and get satisfaction knowing they have a happy time at the Sanctuary."
Volunteering at KBS…It's not the Bucket Brigade, it is social progress.
Interested in joining in the fun? See our webpage to Volunteer with us!
Thanks to Kimberly Ginn, Sanctuary Resource Center Coordinator, for authoring this blog!