MSU's Kellogg Biological Station Assistant professor Dr. Sarah Fitzpatrick and PhD student Kyle Jaynes were recently awarded a grant through the MSU Genomics Gore facility and Illumina®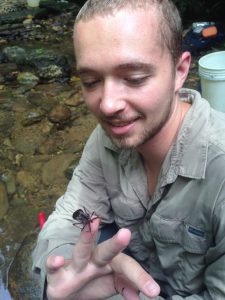 partnership. This grant allows them to investigate genomic patterns underlying population decline and recovery in Harlequin toads of Ecuador.
Their project focuses on a once highly abundant species called the Jambato toad presumed to have gone extinct nearly 30 years ago due to the notorious chytrid fungus that has wreaked havoc on amphibian species worldwide. Recently a single population of Jambato toads was rediscovered in a remote part of the Ecuadorian Andes.
In 2016 the Jambatu Center for Research and Conservation of Amphibians offered a $1000 cash prize for anyone able to find the lost toad, with not much hope for success but with hope to raise awareness of amphibian conservation. To the surprise of many, a school-age boy and his family found a small colony of Jambato harlequins.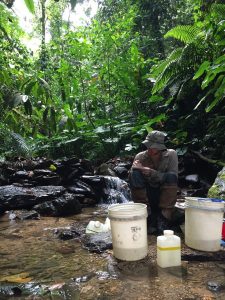 With this newly found population of Jambato toads, Jaynes and Fitzpatrick plan to investigate how this population survived by looking into genetic changes that occurred throughout its genome. They will use samples from museum specimens (pre-decline) to investigate the "before and after" population genomic patterns of near-extinction and functional genomic mechanisms underlying pathogen resilience.
As part of his PhD work, Jaynes will embark on a fieldwork expedition later this year to the Ecuadorian Andes to collect additional data on natural populations of Harlequin toads and to better understand the ecology of the fungal pathogens. Back home at KBS, Jaynes will set up experiments to test the effects of pathogen dispersal on toad infection rates.
Ultimately, results from this project will add to our understanding of what causes amphibian declines and help predict when populations can recover in the face of rapid environmental change.
More about the MSU Genomics Gore facility and Illumina® Grant Contest
The proposal submitted by Fitzpatrick and Jaynes was one of 37 impressive proposals from 16 different departments across MSU's campus. The top five of the 37 proposals were awarded funds. This Illumina/MSU Genomics core award to Fitzpatrick and Jaynes includes $20,000 towards sequencing costs.
Blog written and photos provided by Kyle Jaynes.