Conservation biologist Nick Haddad didn't set out to study rare butterflies. His undergraduate studies didn't focus on butterflies at all. Yet the plight of the St. Francis' Satyr, a butterfly so scarce that it's found in artillery ranges at a single military base in North Carolina, intrigued him and set in motion a decades-long search to find the world's rarest butterflies and determine how best to aid in their recovery.
The Last Butterflies
In his new book, "The Last Butterflies: A Scientist's Quest to Save a Rare and Vanishing Creature," Haddad chronicles the stories of six extremely rare butterflies: the Bay Checkerspot, Fender's Blue, Crystal Skipper, Miami Blue, St. Francis' Satyr and Schaus' Swallowtail. As Haddad tracked these butterflies, he was surprised to learn that some conservation efforts were actually harming their populations. Even more surprising: he found that you have to kill some butterflies in order to bring them back from the brink of extinction.
"The rarest butterflies are at the leading edge of an insect apocalypse," says Haddad. "The causes of their decline and the needs for their restoration can inform conservation of Monarchs, other butterflies and insects in general."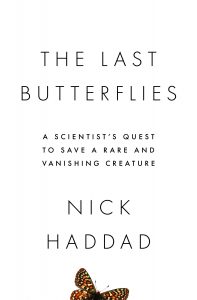 "The Last Butterflies" is written for a broad audience of people interested in butterflies, gardening, and general science and nature topics. Its subject matter is timely and its lessons critically important, as shown by recent reporting on the sobering worldwide decline of insects.
"The Last Butterflies," published by the Princeton University Press, has a release date of Wednesday, June 26, 2019. Shop local, books available for purchase from the Kellogg Bird Sanctuary Resource Center.
About Nick Haddad
Nick Haddad is a professor and senior terrestrial ecologist in the Department of Integrative Biology and the W.K. Kellogg Biological Station at Michigan State University. He is the director of the KBS Long-term Ecological Research program, which studies the ecology of agricultural landscapes. Besides studies of rare butterflies, his research focuses on habitat conservation in agricultural and forested landscapes.
Haddad lives with his family in Kalamazoo, Michigan, a state that is home to three species of critically endangered butterflies.
Related articles
Life's innovations, the enigma of gravity, and how to feed 8 billion: Books in brief | June 14, 2019
Meet the Bay Area butterflies fighting for survival | June 25, 2019
Fluttering to extinction: The tragedy of Britain's butterflies | June 29, 2019
The race to save butterflies before it's too late | July 7, 2019
West Southwest: Searching for the last butterflies | July 7, 2019
Dr. Nick Haddad: Recovering rare and endangered butterfly populations through conservation corridors and other strategies | Aug. 5, 2019
Book review: The beauty and fragility of a threatened creature | Aug. 8, 2019
The mysterious fate of the world's largest butterfly | Aug. 16, 2019