Michigan State University student Adam Petrucco's summer 2019 internship at the Kellogg Bird Sanctuary is shaping his future goals. He was interviewed by external communications intern Grace Beltowski.
~~~~~~~~~~~~~~~~~~~~
For many students, a summer spent at the W.K. Kellogg Biological Station offers the chance to cultivate lasting friendships, but zoology major Adam Petrucco has made friends with more than just his fellow students. In early June, just a few weeks after arriving at KBS, Adam had a rare encounter with 49K, one of the Kellogg Bird Sanctuary's resident Trumpeter Swans.
Adam helped catch 49K so she could be given a routine health checkup, and he explained how the process was no small feat. "She saw a gap between me and the fence line so she started flapping and running along the fence trying to get around me and into the water," he said. "I ran next to her to keep her from getting past me and I actually kept up with her, and we were eventually able to grab her and pick her up."
The struggle was well worth it. "I was surprised to find out that her feathers were so soft," said Adam. "We weighed her and she was only a little above 10 pounds, which is so unexpected because of how big these birds are."
For the birds
Most students at KBS don't get this kind of up-close experience with swans, but Adam is not a typical summer student; he is also the Sanctuary's avian care intern. As a part of his internship, Adam feeds the birds along the waterfront and cleans the habitats of the Sanctuary's resident game birds. He also ensures the birds have different types of enrichment, which consist of anything that enhances their usual routines like new food or toys.
This is not Adam's first summer at KBS. An MSU junior from Trenton, Michigan, Adam spent the summer of 2018 as a student in the Launch Your Major program, which allowed him to take several prerequisites for his degree program over the course of an intensive five weeks at KBS. After learning about the Bird Sanctuary during that summer, he was eager to come back for a second stint, this time as the Sanctuary's intern. According to Adam, the internship has only expanded upon his growth from last summer.
"I'm learning that there's a lot more to animal care than just feeding and cleaning," he explained. "We've been doing a lot of checkups on the birds of prey, so we'll check their body weight and feel for any abnormalities and check to see if their feathers are clean, which will signify whether or not their preen gland is working fine."
Along with expanding his animal-care knowledge, Adam values the hands-on learning experience that interning with the Sanctuary provides. "You can sit in a classroom and be lectured for hours on end, but then when it comes down to actually doing something it is so different from reading about it," he said. "It ties everything together that you've been learning."
Learning and teaching
A large portion of Adam's role as an intern also involves interacting with visitors to the Sanctuary and sharing his knowledge of the birds.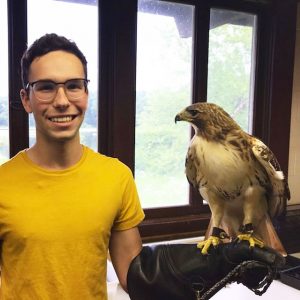 "I get questions all the time like what are you feeding them today, why is this bird here, and things like that," said Adam. "You really have to remember a lot and be able to absorb that information to display it in effective ways."
Adam believes that being a representative for the public is an important role for him as an intern. He sees the mission of the Kellogg Bird Sanctuary as not simply wildlife conservation, but education and outreach.
"People aren't aware of certain problems or they don't know why certain things need to be conserved, so no one's going to help out," Adam said. "But when they learn and interact and see how great wildlife is and why we should conserve it, then it gets people thinking and talking about positive changes they can make."
Adam hopes to be a part of creating this positive change by continuing his education in zoology and animal care. He views his internship with the Sanctuary and his experience caring for birds like 49K as an important first step in discovering what he wants to accomplish after his summer at KBS.
"I'm using this as the gatekeeper internship to show me more experiences I can then take that are more advanced," he said. "I feel like by the end of this summer I'll hopefully have in mind a path and I'll be able to go find another job or internship that's more along that path."
He added, "Money is a huge issue for college kids and an incentive to look into this internship. [The funding] really made this stand out not only because it was perfect for me but also because it showed me that KBS really cares about their interns."
~~~~~~~~~~~~~~~~~~~~
Adam's internship experience is funded by the Joe Johnson Conservation Fellowship. Your gift to this fellowship helps student interns enjoy hands-on work experiences that provide valuable skills as they enter the world of higher education and their professional endeavors. Thank you!