In keeping with W.K. Kellogg's vision of supporting environmentally sustainable agricultural practices, the W.K. Kellogg Farm and Pasture Dairy Center has again been re-verified for the Michigan Agriculture Environmental Assurance Program, or MAEAP. First verified in 2014, the farm met requirements for re-verification in the MAEAP Farmstead, Cropping and Livestock System categories. Farms are re-verified every five years.
MAEAP, administered by Michigan's Department of Agriculture and Rural Development—MDARD—was created in 1998. The voluntary program assists farms in taking proactive steps to reduce their environmental impacts, and recognizes operations that meet or exceed set requirements.
"I'm proud of the re-verification, and everything that has been accomplished by the MAEAP program," says Kellogg Farm Manager Brook Wilke. "Credit goes to the entire Kellogg Farm team that makes sure that we continue to follow best management practices, maintain our facilities, keep all of the records, and many other activities required for this program."
The process and system standards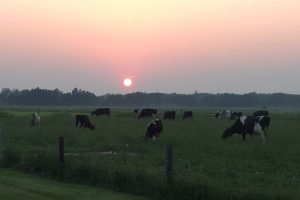 The verification process is three-fold. First, farmers attend a MAEAP education session to become familiar with the program and current requirements. Second, an on-site risk assessment is completed, and farm-specific solutions to environmental risks are set. The final step is a farm visit, where an MDARD representative confirms that the farm has put into place changes specified in the risk assessment and that the farm is following the applicable best practices.
The three MAEAP systems allow farmers to examine environmental issues most closely related to their individual operations. The Livestock system focuses on manure handling and storage as well as maintaining water quality. The Cropping system looks at environmental issues related to irrigation and nutrient and pest management. The Farmstead system has the broadest scope, addressing environmental issues relevant to any type of operation, such as the safe storage of pesticides and fertilizers.
Looking ahead with the environment in mind
Last month, Kalamazoo County MAEAP Technician Linda Zabik and Josh Appleby, MDARD MAEAP verifier, joined Wilke and Howard Straub III, Pasture Dairy Center manager, to finalize the re-verification. The next verification cycle will be completed in 2024.
Learn more about the W.K. Kellogg Farm and Pasture Dairy Center.
Related article
MAEAP verifies 57 farms in August | Oct. 24, 2019