Before starting this experience, I was scared of the journey I was about to embark on. I was leaving behind the life I knew in California for the summer to work in an unfamiliar lab in a different state with a group of people I had never met before.
To me, this idea seemed scary enough, but in addition to my own fears I found myself juggling the fears of my loved ones back home. Most of my family members haven't had the opportunity to travel outside of California, so for them, the idea of me spending an entire summer in a state where I knew absolutely no one seemed crazy. Rather than receiving positive reactions from my loved ones I was constantly asked questions along the lines of, "What is there to do in Michigan? Are you sure you're making the right decision? What are you going to do if you can't find a community out there?". These types of questions made me start to question my own decision to attend the program.
Headed in the right direction
Despite all of this, I had a strong feeling that I was where I was supposed to be. I read up on some of the work produced from the Conner Lab before arriving to the W.K. Kellogg Biological Station and found myself getting excited about the research, which let me know that I was headed to the right place.
Even with my excitement, I still had plenty of doubts about myself before I even started working on my project. I had previous experience working on other research projects that had some element of ecology, but I never worked on a project focused in the area of plant biology or even taken a class on the subject. The knowledge I had on plants had been passed down from the women in my family who had cared for plants for generations. In the beginning, I found myself struggling to separate the concepts I knew from the ones I was learning. As I continued to work and learn more about the main concepts involved, I realized that I could benefit by blending the concepts I brought with me to the concepts I was learning. This is when I realized I didn't have to remove a part of myself in order to contribute to the field, I could work to add on to what I already knew.
Finding a place in STEM
This experience has taught me more about myself and what my interests are as a scientist. Having the opportunity to work at the research station and be surrounded by ecologists reaffirmed my own research interests. It showed me the type of research community I hope to fully take part in one day, but most importantly, this experience helped me prove to myself that I do have a place in STEM.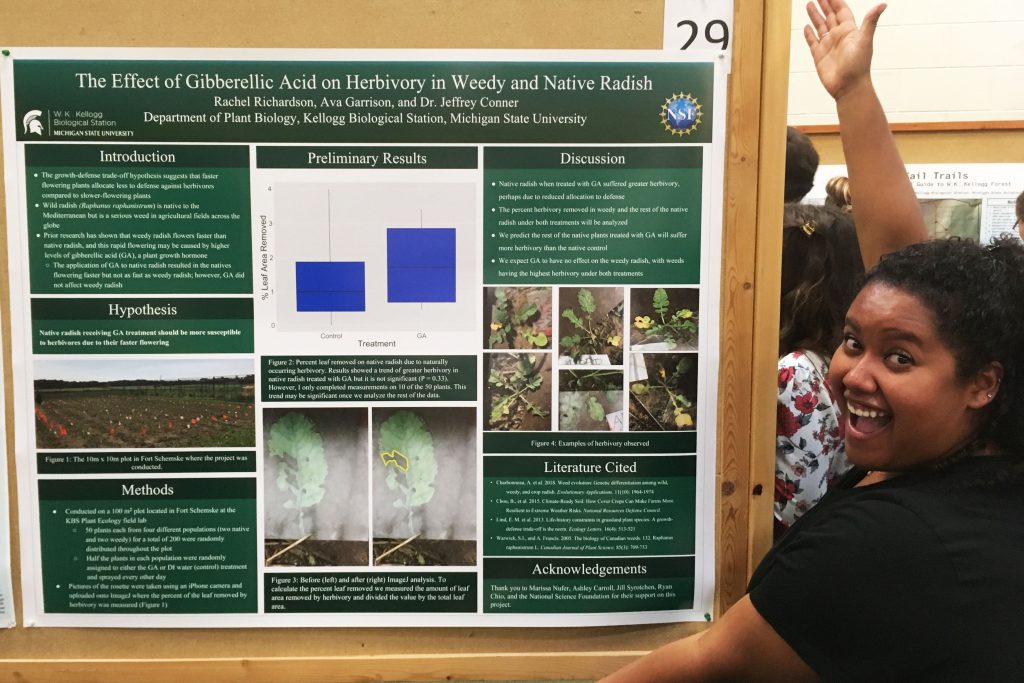 Looking back, I can honestly say this experience has shaped me into a better researcher. I learned a couple of important things along the way:
It's okay to make mistakes, just as long as you acknowledge them and learn how to move forward.
Conducting a summer research project is a constant learning experience filled with challenges and triumphs.
Learn how to separate your own fears from others' and don't let them influence your journey.
A majority of your learning as a student takes place outside of the classroom.
So for students aspiring to take part in the Research Experiences for Undergraduates program, I have some advice I would like to pass along to you:
Take this opportunity to venture out and see not only what KBS but Michigan has to offer.
Don't be afraid to step outside of your comfort zone.
Take advantage of the resources offered at KBS, and reach out to the community as often as you can.
Be patient with yourself; getting adjusted to a new environment will take time, but you'll get the hang of it.
Even though you are venturing out into the unknown, everything will be okay.
~~~~~~~~~~~~~~~~~~~~
Rachel Richardson is a junior at California State University Channel Islands, studying biology, chemistry, and environmental science and resource management. Her KBS mentors were Ava Garrison and Dr. Jeff Conner. Her KBS summer experience was made possible with funding from the National Science Foundation's Biology Research Experiences for Undergraduates program.