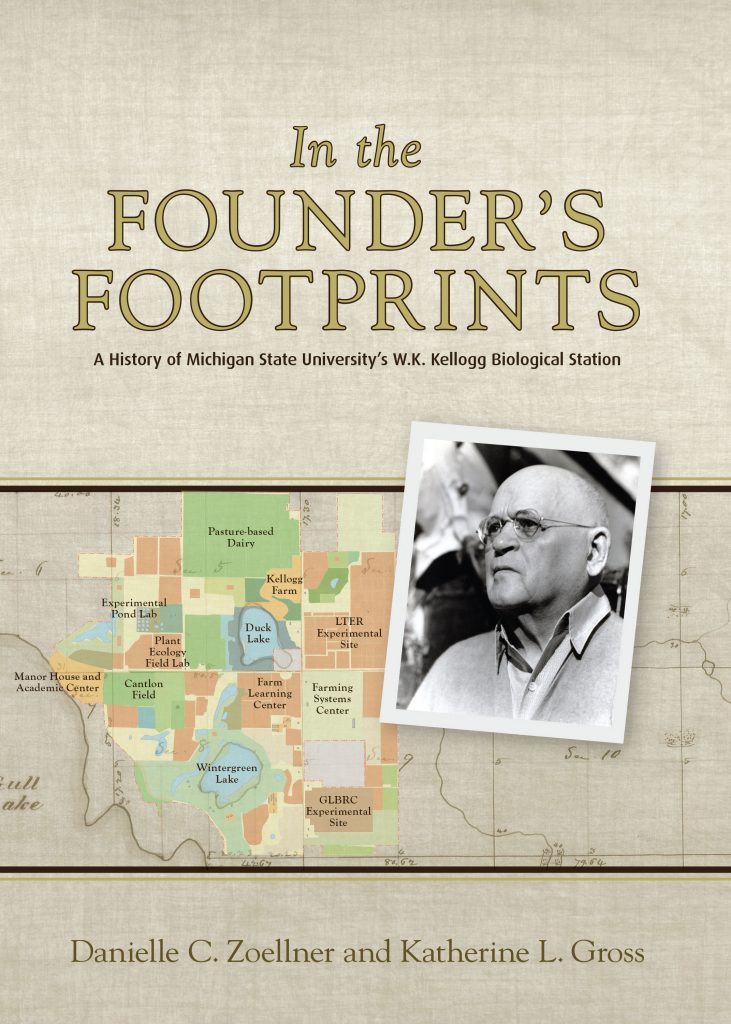 A project years in the making has completed its final chapter. The book, "In the Founder's Footprints: A History of Michigan State University's W.K. Kellogg Biological Station," was published in October. The project was a collaborative effort of current and past KBS faculty and staff members, as well as other contributors. While Drs. Katherine Gross and Danielle Zoellner played important roles in seeing the project to completion, its development was a community effort.
The project began because of the interest of former KBS directors George Lauff and Mike Klug and several recently retired staff to pull together information on how KBS came to be while there were still people around who remembered. "Dr. Lauff generously contributed both his time and funding to get this project off the ground and moving forward," says Zoellner. "We are happy to see his vision come to fruition with publication of the book for everyone to enjoy."
About the book
The book describes how W.K. Kellogg's concern for the environment led to his investment in properties and people to address conservation challenges of his day. Those challenges included declines in bird populations, loss of habitat for wildlife, and the need for agricultural practices that were less harmful to the environment. The Kellogg Bird Sanctuary and Kellogg Farm were established to showcase these efforts.
Readers of "In the Founder's Footprints" will learn how early educational programs at the Station used the Eagle Heights Estate, including the Manor House, Sanctuary and Farm offered courses that focused on field work and laid the foundation for the world-renowned research and educational programs of KBS today. Gross notes that "Putting this history together revealed some surprises, but showed how the vision of Kellogg guided efforts of the first station managers, and ultimately George Lauff, to develop Kellogg Biological Station as a first-class research and educational facility that would serve MSU."
"In the Founder's Footprints" will be available through MSU, KBS and local libraries starting in mid-December. The full book also can be downloaded as a PDF. If you have questions about the book or how to obtain a copy, please send them to info@kbs.msu.edu.