I stood in soft sand that might as well have been quicksand due to my inability to move. Looking back down the dune at Traverse City State Park, I saw how far I had come up just to be stuck on this particularly sandy slope with still so far to climb.
That moment represented my feelings at the start of my undergraduate research experience this summer at the W.K. Kellogg Biological Station. I had never done research before, so everything was new for me. Admittedly, I came into it with a strong sense of optimism, the same optimism we had when we all looked up at the off-trail dune and said, "Let's climb it."
It began with a "few" papers my mentors gave me to read on my research topic of phytoplankton—my first step into the soft sand. What started as a few became five, then seven, then 10 by the time I finished writing the proposal for my project. I felt like I didn't understand half of the words used or the topics included. Even with the written portion done, I struggled in the first few weeks to learn how to do things around the lab for my experiment protocol. Let me tell you: It's not fun being bad at everything you do and not just on the first day but for several days. So, there I was in my own version of unclimbable soft sand, trying to learn research.
It is also important to note that there were other KBS students waiting behind me at my moment of giving up. I started to say those words to Harry, one of the resident mentors at KBS (the only one up the soft sand so far), and he reached out his hand again as if to say try again and he was there to help. I tried again only to run in place like the last time but then tried one more time, and I was able to grab Harry's hand.
An uphill climb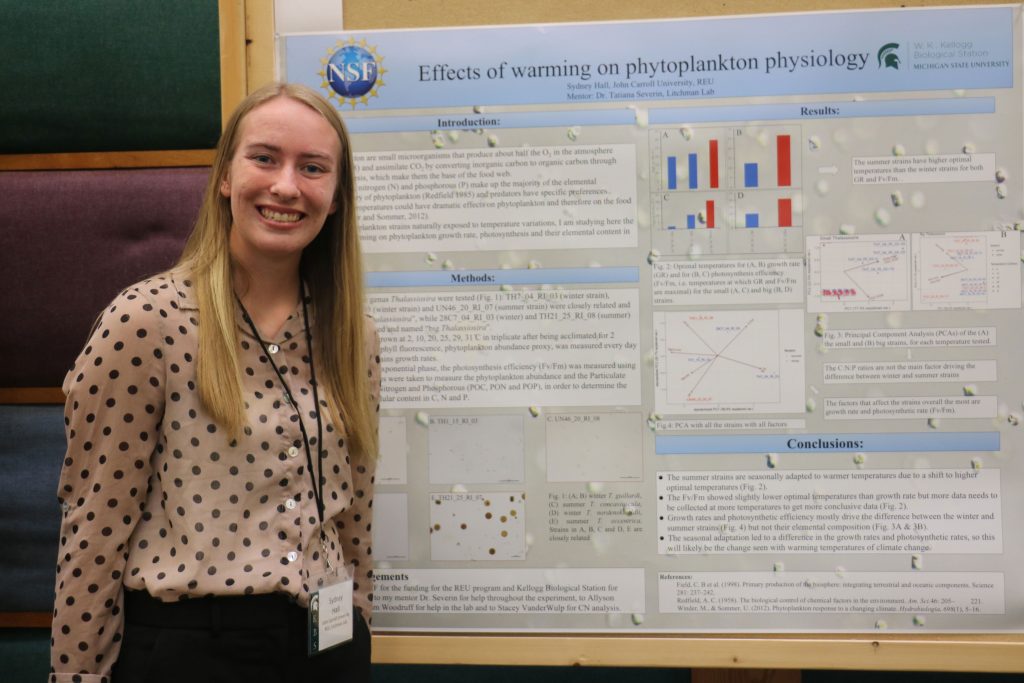 Like pushing through the soft sand, I pushed myself through my protocol and starter lab work. I told myself that it's okay to fail, that research isn't perfect, and neither am I. Once the weight of uncertainty was lifted, I felt free and more open to give it a try. I also realized I had all of the amazing support of my mentors and lab to help me every time I made a mistake. And the lab technicians Pam and Ally and fellow undergraduates Steven and Jessica were always there to tell me I could do it. Once I started getting the hang of it, I started to enjoy the lab work: the rhythm of it, the equipment and my cute little phytoplankton. After a few weeks we read another phytoplankton paper for a lab meeting, I found myself understanding substantially more than the last time.
With much determination, I made it to the top of that humongous dune. The view was spectacular, and I sat there in awe and with a sense of accomplishment to have climbed so far. An adventure, indeed.
After a few mistakes, a few re-starts and a broken beaker or two I felt the same sense of accomplishment at the completion of my experiment. I was almost giddy to have a tangible poster detailing my hard work over eleven weeks. Because research, as it turns out, actually is all about asking one question.
~~~~~~~~~~~~~~~~~~~~
Sydney Hall is a sophomore at John Carroll University, studying environmental science. Her KBS mentors were Drs. Elena Litchman and Tatiana Severin. Her KBS summer experience was made possible with funding from the National Science Foundation's Biology Research Experiences for Undergraduates program.