This summer I had the privilege of working with my mentor, Dr. Tatiana Severin, as an undergraduate research apprentice, or URA, in the Litchman Lab at the W.K. Kellogg Biological Station. I had heard about the program frequently since I transferred from Lansing Community College, but I never applied to attend because I had already scheduled most of the offered courses during the spring and fall semesters, and I usually work near full time between semesters. I thought that I had missed the opportunity. My program advisor then informed me of courses that I was still eligible to take, and that I could work there as well. When I learned that I could work, study and learn about research at KBS, I applied for a URA position. KBS provided me with an opportunity to develop skills useful for my career path as well as in any professional setting.
At KBS, I met many undergraduates with different backgrounds. I enjoyed being able to interact regularly with people who shared similar interests. The students and staff formed an inclusive and supportive group that made the experience uniquely special. There were many opportunities for socializing outside of the lab and classroom, such as movie nights, a camping trip and craft night. However, I most often attended game night. Barbecues were occasionally held on Windmill Island, where I had the chance to talk with people I didn't often see. I regret not attending more events during the first session because I could have spent more time getting to know faculty and the other students.
Life in the lab, the classroom, and the field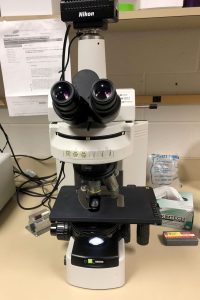 I was one of three undergraduates working in the Litchman lab, although each of us worked on separate projects. I researched the effects of cryopreservation on phytoplankton strains, allowing me the use of equipment and techniques I might not have used otherwise prior to graduation. I never thought I would've used liquid nitrogen as an environmental plant biology major. I also spent a great deal of time using a microscope to count cells, and I learned more about chemical hygiene and biosafety principles. My mentor pushed me to improve my transferable skills, such as organization.
I chose to take the wetland ecology and management course at KBS during the second session of the semester. I enjoyed it more than most classes because we spent more time outside than any other class I had taken. I prefer hands-on learning, which improved my experience. I enjoyed the smaller class size because it provided more opportunities for meaningful discussion with the instructors. The course involved the use of industry methods such as determining wetland boundaries and collecting macroinvertebrate samples. Collecting the samples was difficult, but I found the identification interesting.
A natural choice
I gained a greater appreciation for the natural world this summer. I had an abundance of interactions with wildlife during my time at KBS. I also found the environment to be more pristine than I had imagined. I found that the grounds gave me a feeling of tranquility. Even the short walk from the apartments to the academic building would often lighten my mood. I liked exploring the grounds and observing the tree species, many of which I had never seen before. The full moon maple and paperbark maple were among my favorites.
This experience was challenging and rewarding. I learned a great deal about how research is conducted, what is needed to be successful in the field of biological science, and what I need to do to improve myself. Overall, my summer at KBS was memorable and informative. I would recommend spending a summer at KBS to undergraduates that are natural science majors, seeking professional laboratory experience, or enjoy hands-on learning. I'm glad that I had the opportunity to spend my summer at KBS.
~~~~~~~~~~~~~~~~~~~~
Steven Neher is a junior at Michigan State University, studying plant biology. His KBS mentors were Drs. Elena Litchtman and Tatiana Severin. His KBS summer experience was made possible with funding from the BEACON Center.