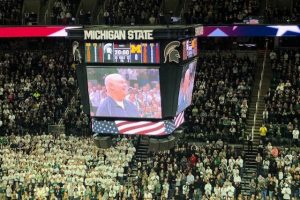 On Sunday, Jan. 5, a packed house at the Breslin Center cheered the Michigan State University men's basketball team to victory over the University of Michigan. Grabbing fewer headlines was the pre-game program, which honored a hero who also happens to be an MSU alumnus and a W.K. Kellogg Biological Station staffer, on the occasion of his retirement from the U.S. military.
Col. Jim Allen, manager of the KBS Conference Center and Manor House, was given the jumbotron treatment as the Breslin announcers recognized him for his service during his military career, which has spanned more than three decades.
A lifetime of service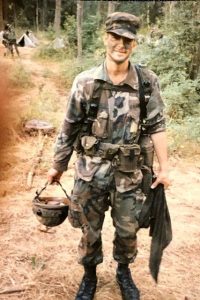 Col. Allen graduated from MSU in 1984. During his military career, he served in the Army, Army Reserve and the Michigan National Guard. He spent almost two years in Iraq over two tours of duty, first as a security force commander and then as a route clearing operations officer. He also spent some 22 months as a foreign military affairs officer running security cooperation missions with the Tajikistani and Omani armies.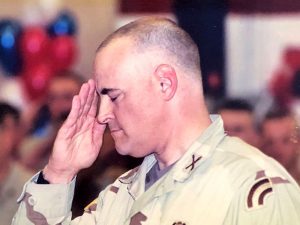 Over the past five years, Allen commanded the 3-330th Infantry Battalion in Waterford, Michigan, then completed his final assignment as the division operations officer for the 98th Training Division at Fort Benning, Georgia.
The KBS community congratulates Col. Jim Allen on the well-deserved honor, and we thank him for his service!