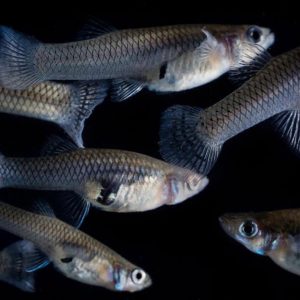 The dual perils of habitat loss and increased extreme climate events are putting stressors on plants and animals, particularly those found in small and isolated populations. It's often not clear what determines whether these populations will go extinct or rapidly adapt to stressful changes in their environments.
Sarah Fitzpatrick, Michigan State University W.K. Kellogg Biological Station and Department of Integrative Biology assistant professor, is set to investigate the genetic factors that facilitate or limit adaptation to environmental change, with the help of a recently awarded grant through the National Science Foundation Division of Environmental Biology's new Bridging Ecology & Evolution program.
Genetic rescue to the rescue
The $858K grant will fund a study examining whether small populations that received an influx of new genes, through a process termed "genetic rescue," can adapt faster to a stressful environment and avoid extinction compared to those that have not. To get at that question, Fitzpatrick and her colleagues will study eastern mosquitofish in a large array of outdoor mesocosm tanks, heated to stressful levels. Each population will have a known genetic background. "Mosquitofish are like the fruit flies of the vertebrate world," Fitzpatrick notes. "We can manipulate and study their evolutionary history and watch how that plays out in real populations in semi-natural conditions in real time."
The researchers plan to track changes in genes and in the number of fish in each tank over several years, and test whether populations that previously received new genes avoid extinction and resist heat better than populations with lower genetic diversity.
"This is important because genetic rescue is typically used as a last resort strategy when a population is on the brink of extinction," says Fitzpatrick. "But, if we can show that introducing new genetic variation can speed up adaptation to environmental change—it could have major implications for conservation and management of biodiversity."
Fitzpatrick is the principal investigator on the project, which is a collaboration between two of North America's premier biological field stations; MSU's W.K. Kellogg Biological Station and Archbold Biological Station, located in central Florida. Co-PIs are Archbold biologist Betsie Rothermel and Gideon Bradburd, MSU Department of Integrative Biology.
Fitzpatrick, Rothermel and Bradburd are set to begin work on Sept. 1, 2020.
Related article
NSF-funded project to track genetic "adapt or die" responses to environmental change | Aug. 31, 2020