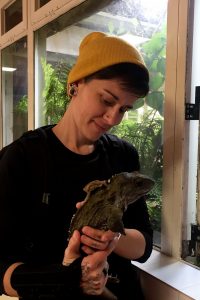 We're delighted to welcome Dr. A. Carter, who recently joined the W.K. Kellogg Biological Station community. Though they've been here virtually for a while, Carter arrived in Michigan in July.
Carter joins KBS as a postdoctoral researcher in the Janzen Lab. They previously worked with KBS Director Fred Janzen at Iowa State University.
Before coming to Iowa State, Carter earned a Ph.D. in ecology and biodiversity from Victoria University of Wellington, New Zealand.
Carter's research focus lies at the intersection of remote sensing and thermal ecology—looking at how physical and physiological processes scale up from organisms to populations. They're also interested in increasing LGBTQ+ representation in STEM and the accessibility of ecology to disabled people.
So, what has Carter been up to at KBS? "Right now," they say, "I'm using drones to map and model the micro-environmental conditions that drive thermal developmental plasticity in reptiles."
Welcome, Carter. We're so glad you're here!