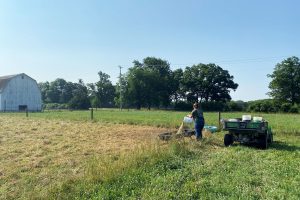 When I was told I would be spending the summer working on a study with grass-fed beef steers at the W.K. Kellogg Farm, I was thrilled. When the first day of preparation for the trial rolled around, I was more than ready to get started and thought things would be smooth sailing, but boy was I wrong. The cattle involved in the trial came from a feedlot operation in Oklahoma, meaning they weren't entirely used to people. Moving, sorting, and weighing 60 900-pound animals who will do anything to get away from you proves to be quite the challenge.
If you've ever wondered what 54,000 pounds of cattle looks like, it's a lot, and they all have a mind of their own. However, after a few long days and a few frustrating moments, the steers were finally weighed, separated into groups of five, and put into their new paddocks, so the trial could officially begin.
The research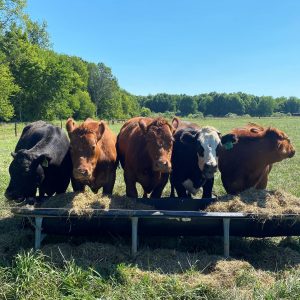 With this trial I had two main responsibilities: to feed the cattle and to move them to new paddocks for grazing. The steers were split into groups and provided one of four diets: pasture supplemented with dry hay, pasture supplemented with baleage, pasture supplemented with soybean hull pellets, and baleage supplemented with soybean hull pellets. The cattle were fed their supplements on a daily basis and given new sections of pasture weekly.
By now you may be wondering why I spent my mornings feeding grass-fed cattle things that weren't grass. This is because the American Grassfed Association allows grass-fed cattle to be supplemented with a number of approved forage products. The purpose of this study is to determine if supplements within the approved forage products has an effect on the nutritive value of the beef, as there is a rather high level of variability in ratios of n-6 to n-3 fatty acids. These fatty acids play a huge role in the draw to grass-fed beef, giving the product its healthier claim to fame.
Beneficial and challenging
I don't have any data or findings to share with you, since the trial extends past the end of my internship, but I do have new knowledge and skills, and I've learned a few life lessons along the way. With the uncertainty of COVID-19 ever present, the start date for my internship was pushed back a few times, and eventually I was convinced it would just be canceled. Thankfully, that wasn't the case.
Being one of two in-person interns at KBS this summer was both beneficial and challenging. On one hand, there were fewer people to bounce ideas off of and problem solve with; but on the other hand, I had the opportunity to connect with those who were here on a more one-on-one level. I also had a few experiences that may have not have happened if there were more people on site.
I am extremely grateful for the opportunities I've had at KBS this summer, and I look forward to applying what I've learned in my future endeavors.
~~~~~~~~~~~~~~~~~~~~
Kylee Kunse is the 2020 KBS farm intern. She studies animal science in the College of Agricultural and Natural Resources at Michigan State University.
~~~~~~~~~~~~~~~~~~~~