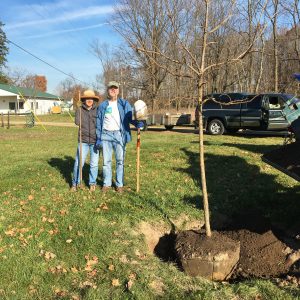 The memory of a treasured colleague of many at W.K. Kellogg Biological Station will endure here in arboreal form.
Last November, KBS grounds staff and faculty planted a Bur Oak tree (Quercus macrocarpa) near the KBS Long-term Ecological Research, or LTER, site in honor of Dr. Richard "Dick" Harwood, professor emeritus of crop and soil science at Michigan State University, who died in September 2020.
Richard Harwood
Harwood, who was the first C.S. Mott Chair of Sustainable Agriculture at MSU, established a long-term research project on sustainable agriculture at KBS—the Living Field Laboratory, or LFL, and also was a key contributor to the KBS LTER program, for which he was a co-Principal Investigator.
The LFL project, which ran from 1994 to 2014, was used to extend the fundamental work undertaken at the LTER site to cropping systems directly relevant to farmers. Harwood used the LFL to demonstrate how soil biology could be managed to deepen the sustainability of corn, soybean and wheat rotations typical of the upper Midwest. His research helped to lay the foundation for today's regenerative agriculture and led to a number of MSU Extension publications and outreach beneficial to Michigan farmers.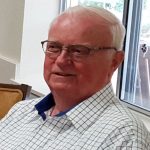 MSU professor Sieglinde Snapp, who ran the project after Dr. Harwood's retirement, said of the LFL, "I think what makes this project so effective is that it's based on farmers' wisdom … it's not just this one experiment—it's all these relationships with farmers. [Harwood] … sought their input, and that's kept our work very applicable to the industry."
KBS professor Phil Robertson, longtime collaborator of Dr. Harwood's and LTER director at the time, notes that "Dr. Harwood was an agronomic visionary. He spent the first part of his career in southeast Asia advancing the Green Revolution, developed ways to scale organic agriculture after moving to the Rodale Institute in Pennsylvania, and from there came to MSU where he made crucial contributions to the emerging sustainable agriculture movement. His vision benefited KBS, MSU, and farmers everywhere."