A leading aquatic science society has recognized the influential research of a W.K. Kellogg Biological Station scientist.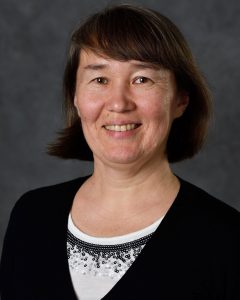 Elena Litchman, professor of aquatic ecology at Michigan State University, has been named the recipient of the 2021 G. Evelyn Hutchinson Award by the Association for the Sciences of Limnology and Oceanography, or ASLO.
The award recognizes limnologists or oceanographers whose research has contributed significantly to the body of knowledge in their fields, and who are expected to continue legacies of scientific excellence.
Elena Litchman
Dr. Litchman's research career has focused on studying the structures of phytoplankton communities. She's perhaps best known for her seminal work developing a trait-based approach for the study of plankton ecology. Application of the trait-based framework—originally described in terrestrial plant ecology—to phytoplankton community dynamics has been transformational for the field.
In ensuing years, she has continued to apply this framework to answer important questions in phytoplankton ecology, such as impacts of climate change on communities.
In congratulating Dr. Litchman on the award, KBS Director Fredric Janzen said, "Her work continues our tradition of more than 50 years of research on phytoplankton, and many other aspects of aquatic ecology, while being distinctive in venturing beyond freshwater into marine ecosystems as well.
Elena Litchman came to KBS in 2005, adding to a decades-long legacy of aquatic research at the Station. Her landmark research was published a few years later. She was named an MSU Foundation Professor in 2017.
Association for the Sciences of Limnology and Oceanography
ASLO is an international aquatic science society that was founded in 1948. For more than 60 years, it has been the leading professional organization for researchers and educators in the field of aquatic science.
Related articles
2021 Hutchinson Award Recipient: Elena Litchman | March 4, 2021
MSU's Elena Litchman lands prestigious award for scientific excellence in aquatic ecology | March 4, 2021