A KBS scientist who recently was recognized for her research has received another prestigious award.
Isabela Borges, a Ph.D. candidate in the Fitzpatrick Lab, recently won a Student Research Award from the American Society of Naturalists. The Botanical Society of America—BSA—then selected Borges' research proposal as the sole recipient of that society's J.S. Karling Graduate Student Research Award.
The award includes a $1,500 gift, which will further support Borges's research. She was awarded $2,000 as part of the recent Student Research Award she received.
About the award
The J.S. Karling Graduate Student Research Award lauds the top application received for the BSA's Bill Dahl Graduate Student Research Award. Borges's proposal was the top pick, out of 130 applicants.
The proposal is titled "The effects of plant inbreeding on the legume-rhizobia mutualism." Her advisor Sarah Fitzpatrick, assistant professor at KBS and in Michigan State University's Department of Integrative Biology, called the award "well-deserved and well-earned" and "wonderful news."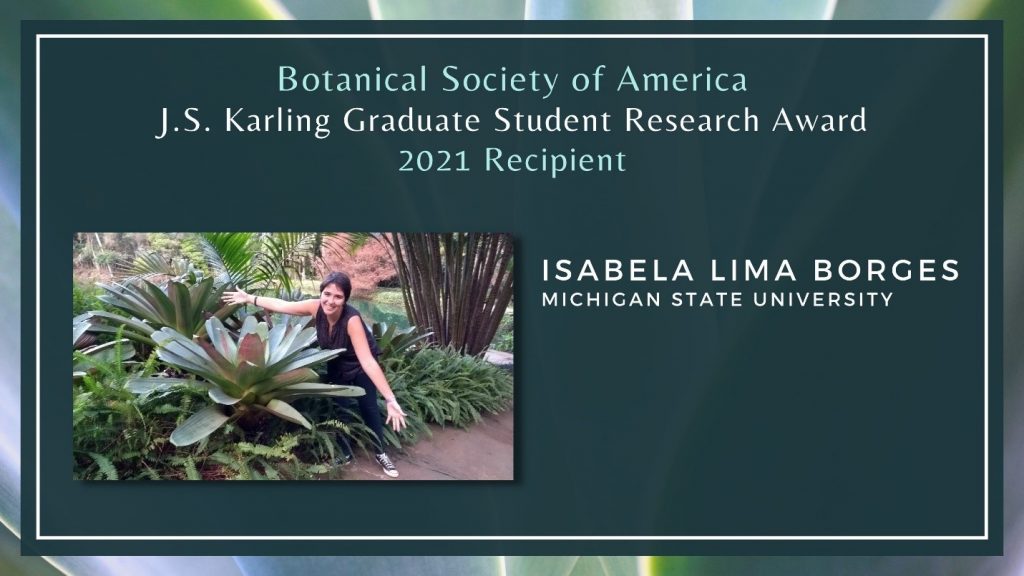 Isabela Borges
Isabela Borges earned a bachelor's degree in ecology and evolutionary biology from the University of Toronto by way of the Federal University of Rio de Janeiro. Borges arrived at KBS in 2018, where she's pursuing a Ph.D. in integrative biology, through Michigan State University's ecology, evolution, and behavior dual-degree program.
Her research interests include the evolutionary ecology of small populations, conservation genetics, and community ecology.
Related article
KBS's Borges earns sought-after award for 'novel and important' research | April 16, 2021