Many students gain valuable experience spending the summer at the W.K. Kellogg Biological Station. This is especially true for intern Ashlynn Toles. Ashlynn is a rising senior at Michigan State University, studying environmental biology and zoology.
"I am the Avian Care Intern at Kellogg Bird Sanctuary. So mostly, I feed and clean the different birds," explains Ashlynn. The Sanctuary, established in 1927 as a haven for migrating waterfowl, has hosted summer interns for many years, who help fulfill the Sanctuary's mission of conserving native habitat through research, education, and outreach that help people gain environmental awareness.
There are three different types of birds at the Sanctuary: game birds, waterfowl, and birds of prey. Along with caring for the birds, Ashlynn completes other projects with her mentors.
For the love of birds
She feels her work is important because the Sanctuary provides a safe place for birds to live while also teaching people about conservation.
"… With a lot of climate change and habitats being destroyed, it's very important to preserve the animals and the species that we already have," says Ashlynn. "So places like these help injured birds especially, who can't survive in the wild. We can also teach the public about why it's important to conserve, to do conservation in the wild, and to learn about different birds."
Conservation is important to Ashlynn because she wants to become a zookeeper. Her internship at the Kellogg Bird Sanctuary provides the perfect opportunity to get experience in this field.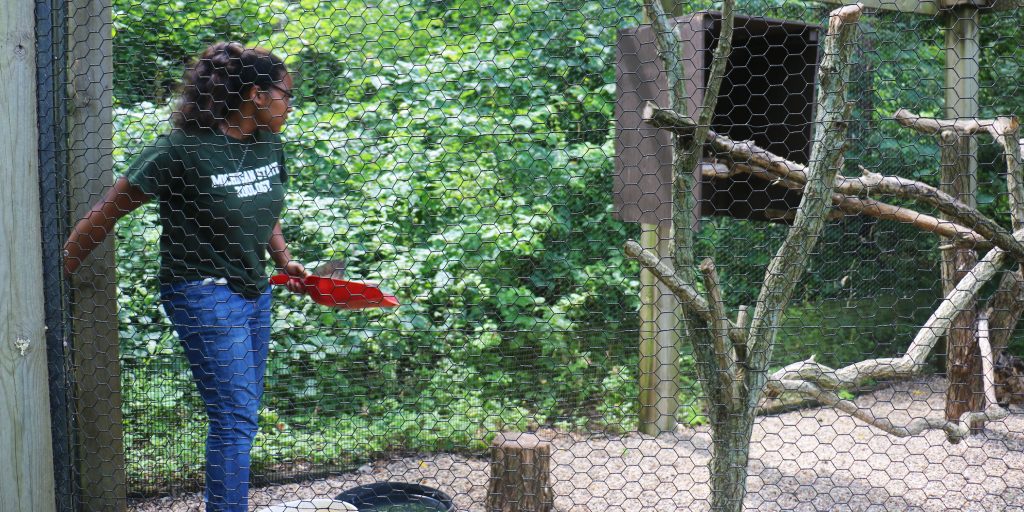 "I've learned a lot about what goes into being a zookeeper by learning from my mentor, who was previously a zookeeper," says Ashlynn. "So learning about what it all involves, more than just feeding and cleaning animals."
Internships at KBS help undergraduate students learn more about their interests and future career goals.
"I am learning currently how to train one of the Red-tailed Hawks, her name is Toby, on the glove," says Ashlynn. "So actually handling her on the glove and showing her to different visitors. So that's one of my favorite things I've been doing here."
The Sanctuary's ambassador birds participate in programs that are open to the public as well as school field trips.
An out-of-the-way community
Although Ashlynn came to KBS for an internship that was geared toward her degree, she enjoys other aspects of the campus in her free time.
"I like to go by Gull Lake and just sit out there, watch the water and relax," says Ashlynn.
Encountering the outdoors through KBS was a unique experience for Ashlynn, one that she now appreciates.
"I was nervous before coming because it's more of a rural area," says Ashlynn. "I've never been out in rural places, so I guess I was a little nervous about that. But so far, it's been great. Getting out of the city and seeing what it's like to live out here."
Ashlynn also enjoys the community environment at KBS. Everyone works on their own projects but still comes together to talk about their experiences, which is part of what makes summer at KBS so valuable.
"I'm looking forward to learning more about animal husbandry from my mentor and just getting to know the people that work here and the friends I've started to make here at KBS."
~~~~~~~~~~~~~~~~~~~~
Ashlynn was interviewed by Abigail Comar, the 2021 KBS external communications intern. Abigail is majoring in fisheries and wildlife and journalism at Michigan State University, with concentrations in conservation biology, environmental science and health reporting.