When I was accepted as a Research Experiences for Undergraduates—REU—student for this summer, I was absolutely thrilled. For a while. Then, I was nervous. As an introvert, and someone who had just spent the past year-plus interacting with a grand total of about four people—my college was fully virtual—I wasn't super sure how the summer would go.
In the end, it turned out better than I could have imagined. I'm more sure of what I want to do after college, and I've met some of the most amazing people in my life. I wanted to share the three most important lessons I learned in order to have a successful program: Talk to people, do things, and take time for yourself.
Talk to people
Philosophers have said that people are inherently good. Along those lines, one of the most important lessons that I've learned this summer is that scientists are inherently people. Before I came to KBS, I was very nervous about the prospect of doing research with "scientists." We've all heard of "scientists"—those know-it-alls who shame upstart undergrads who don't know anything about "real science." Imagine my surprise when I instead found a welcoming community and mentors who were excited to get me started on a self-directed research project with my roommate and lab partner, Joseph. Whenever we had any questions (and we had a lot), our mentor Jonas or principal investigators Chris and Elena were ready to help.
And it wasn't just the researchers in my lab who turned out to be humans. During the summer, KBS runs an Eminent Ecologist series where speakers are brought to the field station throughout the summer. These are people being recognized for their incredible output in the field of ecology, real leaders in the field. They are also some of the most down-to-earth people I've met. Some of the highlights of my summer were the receptions for the Eminent Ecologists, where we could chat with them and other professors about their research, or just about life in general, all while playing a game of badminton or croquet.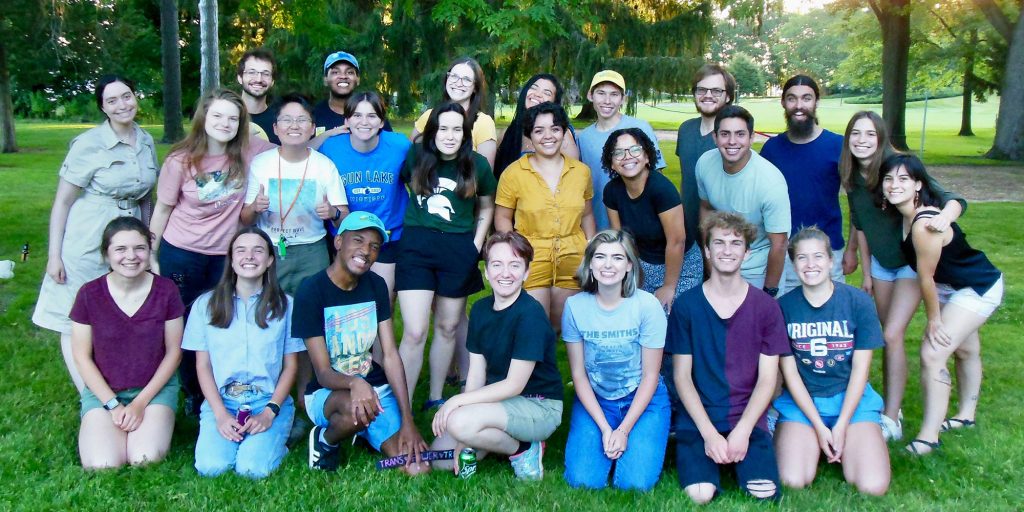 But surely, I persuaded myself, surely the other undergraduates couldn't be that nice. I know STEM majors: nose to the grindstone, no time for fun. Except those undergrads were nowhere to be found. Instead, I found a true community—something I haven't had in a while, since my school was fully virtual in 2020. Everyone was excited about their research, but they were also excited to watch movies, play board games, or go on bike rides. This brings me to my next point.
Do things
Once you learn how amazing these people are, you have to spend time with them. During my time at KBS, we had so many great experiences together. I loved the time we spent sitting around bonfires, talking about what life would be like with Slinkys for legs or watching the fireworks from across the lake. Another particular highlight was our trip to Van Buren State Park. We had an awesome trip; biking, swimming, running down the dunes and finding the nuclear power plant that for some reason is directly next to the state park, before ending the night with a sunset over Lake Michigan. There are so many awesome experiences to be had, and I highly recommend taking advantage of every opportunity.
Take time for yourself
Finally, while it's true that everyone here is amazing, I think it was important for me to find things that I could do for myself to unwind and relax. Biking and unicycling were awesome ways for me to spend time on my own. Luckily, there are a ton of great bike routes in the area, so it encouraged me to get out and experience the outdoors. Also, when the mosquitoes allowed, there are some really nice hiking trails right around KBS, and wandering around the Bird Sanctuary was a particular highlight.
Having time alone was a great benefit, and I loved the places I could go and explore. I've had such an amazing summer, and I'm really going to miss all of the people that I've met during my time at KBS. I'm leaving more confident in my abilities not only as a researcher, but as a person. No matter what adventure I'm off to after I finish up my undergraduate degree next year, I know the lessons I've learned at KBS will help guide me on my way.
~~~~~~~~~~~~~~~~~~~~
Bjorn Larson is a junior at Grinnell College, studying biological sciences. His KBS mentor in the Klausmeier-Litchman Lab was Jonas Wickman. His KBS summer experience was made possible with funding from the National Science Foundation's Biology Research Experiences for Undergraduates program.
~~~~~~~~~~~~~~~~~~~~