It is rare to find a person who is willing to have an hourlong conversation about mushrooms with you. However, at KBS I easily found multiple people willing to do just that.
When I showed up at KBS, I had no idea what to expect and was nervous about not knowing anyone. Those fears turned out to be completely unwarranted. Within the first few days of living at KBS I was already walking around the campus with my new roommates trying to identify plants and talking about all of our plans for the summer.
Mycological memories and moos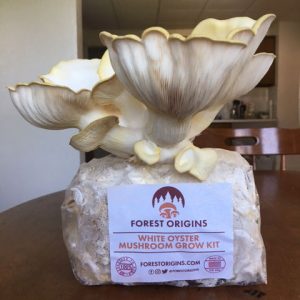 My days were long and full of work throughout the summer, but as much as I enjoyed the research aspect, the memories I made outside of the lab are the ones that will stick with me. Throughout the summer my roommates and I made weekly trips to the farmers market where we became familiar with one booth in particular—the mushroom seller. We instituted Sunday mushroom dinners with the spoils from our Saturday trips. We cooked together, making lion's mane "lobster rolls," oyster mushroom "pulled pork," and so much more. We never went more than a few days without someone showing everyone else pictures of the cool mushrooms they had seen that day. We even went so far as to grow our own mushrooms from mushroom grow kits in our living room.
I know this might sound a little like we are obsessed with mushrooms, and that's because we are. But we did other things too, like make friends with the cows at the KBS dairy farm down the road from our house!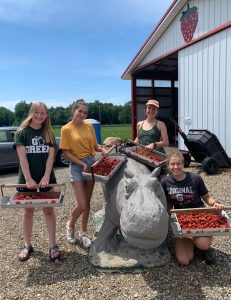 I love cows and would have willingly visited the cows at the dairy on my own. But I was lucky enough to be surrounded by other people who were just as excited about cows as they were about mushrooms. I found myself in a position where I was not the only one suggesting that we visit the cows and our whole house regularly took group trips to visit them together. We became familiar with certain cows that we visited frequently and would laugh as the cows licked our entire arms, leaving us in need of showers. I'm not sure any of us ever perfected our cow sounds, moo-ing back at the cows, but we certainly had fun trying.
All work, and also play
This is not all to say that the summer was not full of work too. There were long nights our whole house spent awake, struggling to understand data and research papers. I learned a lot about the non-linear nature of research and the frustration of statistics in 'R'. All of these struggles were made better by stressing out about them with my roommates and lab mates who were going through the same things.
I learned that field work can mean long, hot days baking in the sun, but it can also mean joking around and laughing at our mistakes. I learned that lab work can be tedious and that you can get blisters from scissors when chopping too many roots, but I also learned that with the right people, it doesn't have to be boring. Even as the summer came to an end and I was overwhelmed with deadlines, I still found time to say goodbye to the cows and cook a final mushroom meal with my roommates.
~~~~~~~~~~~~~~~~~~~~
Claire Bott is a junior at Michigan State University, studying animal science. Her KBS mentor in the Robertson Lab was Carmella Vizza.
~~~~~~~~~~~~~~~~~~~~