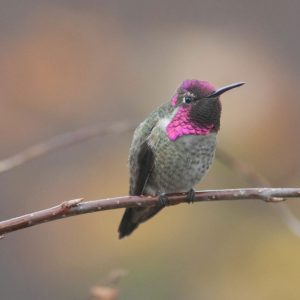 Birds not usually seen in Michigan show up here on occasion. But why? Learn about rare birds—sometimes called vagrant birds—and how migration affects rare sightings in a three-week, online course with the W.K. Kellogg Bird Sanctuary. Out of Bounds Birds will begin Tuesday, Jan. 25, and continue for the two following Tuesdays from 6 to 7:15 p.m.
Schedule
In the course, we'll discuss the rare birds that visited Michigan in 2021 and deepen our understanding of bird migration and navigation. Weekly themes are:
Tuesday, Jan. 25: Migration
Bird migration is often thought of as a regular seasonal movement, often north and south along a flyway in between breeding grounds, but in fact migration involves many variations. This week we'll discuss why birds migrate, how they know where and when to go, and what factors drive birds to migrate.
Tuesday, Feb. 1: Avian vagrancy
Spotting birds outside of their expected habitat is always a treat for birders. While there is still a lot to learn about why this happens, we'll discuss some reasons birds get off course and talk about some rare birds that were spotted in Michigan in 2021.
Tuesday, Feb. 8: Rare birds of Michigan
Birds will be starting their spring migration journeys before we know it. We'll chat with a 2021 Michigan "Big Year" birder about how to get a kick start on your life bird list, and discuss how to use various resources to find rare birds ethically.
Registration
The cost of the course is $35 for W.K. Kellogg Bird Sanctuary members, or $45 for non-members. Participants can earn continuing education credits for the Master Gardener, Master Naturalist, and Conservation Stewards programs; one credit for each hour spent in class. Digital handouts and worksheets, selected identification keys and technical references will be provided. Register at bit.ly/kbs-rare-birds2022 through Sunday, Jan. 23.
Questions? Contact the Kellogg Bird Sanctuary at birdsanctuary@kbs.msu.edu or (269) 671-2510.