If you have ever doubted the strength of a cup of coffee, let me be the first to tell you just how practical it can be. An early morning jumpstart is all it takes to reinforce my excitement for work each day as a student researcher in the Undergraduate Research Apprenticeship program at KBS.
Right away, I am eager to go work on our early morning caterpillar care at the field lab. The caterpillars are fed, their cups are cleaned, and notes are taken on their health or when they enter a new life stage.
Every caterpillar has their own individual ID, with some personal names given by my colleagues Alice, Jessica and me. My favorites were Groot, our first stick-like caterpillar, and James Bond, as his ID was D007. On our way out of the lab, I see friends and fellow students working on their own projects, huddled around microscopes or heading into the greenhouse. Everything is a vibrant buzz of productivity and focus.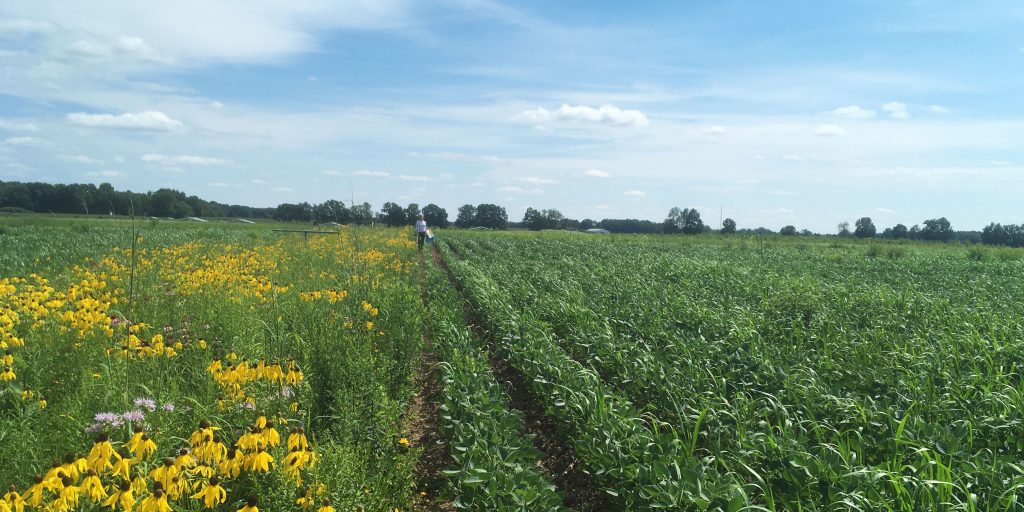 Caterpillars in the field
Next up is our field work at the Long-term Ecological Research site. Here, we conduct visual searches for caterpillars amongst the soy and native plants. Even here, there is a bustle of activity as trucks and tractors drive by the replicates to perform various tasks. Even with the sun bearing down on my back, I am elated to find a rich, diverse community of insects amongst the agriculture.
Every few plots, someone finds a huge caterpillar, or a fuzzy one that is resting on their data sheets. Each caterpillar found is a joyous moment. Despite the buzzing flies and prickly thistle plants, the day of field research is rewarding and satisfying, no matter how many caterpillars are found.
In the afternoon, students gather for sporting events, card games, or leisurely walks down the shoreline of Gull Lake. Every day is a different event, and everyone flocks to join in! A sea of smiles and a chorus of excited shouts fill the air at Windmill Island, as this hot day was rewarded with a long swim in the lake. The cool water is comforting, and soothes the aches from the work day. We talk about our work and what research we are doing, or more likely, what movies and shows are "top tier" on Netflix. With the weekend coming up, people are abuzz with ideas of food to eat and places to see. I could not think of a more welcoming and heart-warming environment to be in. Even with my home being five hours away, I feel at home with my friends here at KBS.
Searching for the hawk moth
A quick bite to eat for dinner (probably another one of my crazy taco recipes) prepares me for a special night of work: mothing! Here, Alice, Jessica and I set up a large white sheet with a powerful light to attract all sorts of moths from midnight to the wee hours of the morning. A second cup of coffee sits comfortably next to me as we watch all sorts of moths swarm the white tarp. I quickly spot one of our target moth species—a hawk moth—on the tarp, and I prepare myself to handle the tiny critter. Naturally, the moth is massive in comparison to its neighbors, and a mix of fear and excitement rushes through me as I delicately pluck it off the tarp. While Alice and Jessica collect pollen samples from the various parts of the moth, I am filled with wonder and awe at this surprisingly beautiful insect.
After another hour or so, we head back to our respective lodgings to get a well-deserved night's rest. Yet, as I lay on my bed staring at the ceiling, I can't help but think about all of the possibilities of the coming days.
Days like these are examples of how my research experience has cultivated a cooperative, positive, and meticulous mindset for my future in the science field. Research has opened my eyes to the possibilities of my studies after university…all thanks to my KBS experience. And a few cups of coffee.
~~~~~~~~~~~~~~~~~~~~
Derek Luecker is a sophomore at Michigan State University, studying integrated biology and zoology. His KBS mentor in the Haddad Lab was Alice Puchalsky. His KBS summer experience was made possible with funding from BEACON).
~~~~~~~~~~~~~~~~~~~~