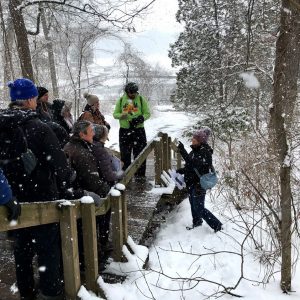 Hit the W.K. Kellogg Bird Sanctuary trails this February and learn how to identify trees in their winter form. Join Dr. Danielle Zoellner of Idle Awhile Farm & Forage for a Winter Twig ID workshop from 1 to 3 p.m. Saturday, Feb. 12.
About
This year's class is offered in a hybrid format. A week before the class date, participants will receive pre-class readings, extended learning resources, and a 30-minute instructional video that will review twig ID characteristics. At the Feb. 12 in-person session, Dr. Zoellner will lead a walk at the Sanctuary where you'll learn how to identify Michigan trees and shrubs by observing branching patterns, bark, leaves and scars.
Registration
Have a specific tree you want to identify? Bring a twig with buds on it to the in-person session, and find your ID! Register at bit.ly/kbs-twigID-2022 by Sunday, Feb. 6; space is limited.
The cost of participation is $30 for Sanctuary members, and $40 for non-members. Participants may opt to buy the recommended text, "Winter Tree Finder: A Manual for Identifying Deciduous Trees in Winter," by May T. Watts, which is available for purchase online.
The Kellogg Bird Sanctuary, open during all four seasons, is a perfect place to practice newfound identification skills. The Sanctuary is located at 12685 East C Ave., one mile north of M-89 and just west of 40th Street.