Date/Time
Date(s) - 06/23/2020 - 06/25/2020
8:00 am - 3:30 pm


Download Event iCal
Location
Auditorium (312)
Categories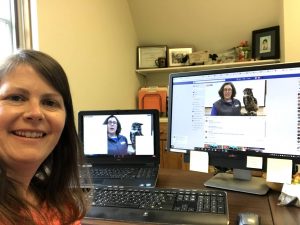 Science from a Distance
Agenda here! Use the agenda to access all program resources, including recordings, lesson plans and slide shows.
Thank you to all the fabulous participants, it was your participation that made our first virtual workshop a huge success!
Who: K-12 teachers and informal educators
When: Tuesday-Thursday, June 23-25, 2020 9 am – 3:30 pm
Where: Online via Zoom!
Compensation: $75/teacher/day, upto $225  Stipends are available for Michigan K-12 classroom teachers for each full day of participation.  (stipends will be prioritized for returning K-12 Partnership participants and will be available for a max. of 75 participants)
SCECHs: not available
The 2020 Summer Institute will be hosted online as we continue to social distance in the time of Covid-19.  To make this online format possible we will not have concurrent sessions.  For a few of the sessions there will be 'prework' mostly in the form of reading or doing a short activity outside that you can share and reflect on during your session.  We'll have this clearly outlined in the Agenda which we are working to finalize by June 11.
We are excited to bring three plenary speakers:
June 23: Dr. Ellen Holste

, Community Program Manager, Pierce Cedar Creek Institute.

From Hawthorns to Eagles: Stories of Michigan Women Who Transformed Science
June 24: Dr. Denise Keele, Associate Professor of Political Science and Environmental Sustainability Studies, Western Michigan University.  Climate Change Policy and Politics: an Interactive Discussion
June 25: Dr. Elise Zipkin will share a talk related to her research in Quantitative Ecology, How can we use math to inform monarch conservation?.  Dr. Zipkin is an 

Assistant Professor in the Department of Integrative Biology at Michigan State University.
The workshop will feature sessions on monarchs, seed dispersal, climate science, nature journaling, mapping by hand and GIS, project-based learning examples and more.  We'll also participate in a live Bird of Prey program webinar provided by the Kellogg Bird Sanctuary.  There will be two interactive sessions that we need your help in creating, see the next section of this newsletter for details.
Help needed with Interactive Sessions
1. Share Out about Distance Teaching: Stories and Resources (Tuesday, June 23 at 2pm)
Presenters needed!  email KaraHaas@msu.edu if you are willing to share!
This spring was something none of us was prepared for and we all learned a lot of things about ourselves and creative ways to accomplish our jobs.  We hope this session will honor the struggles and triumphs and allow us to learn from each other.
Do you have a resource that you utilized this spring that was helpful?  Did you have an experience that you learned from that you would like to share with others?  If so, would you please send Kara Haas an email with the subject 'Distance teaching stories'.  I'll share a google slide show that you can add slides to help you share your story.  I'm looking for about five different stories/resources and for a max. of 10 minutes for each person to share.  Thank you!
2. Group Brainstorm: Resources for Summer Learning
Inspired by the WMU hosted 'TeachStock' last year, during this session we will gather in three breakout rooms to brainstorm resources.  In your summer institute registration you will be asked to choose one of the topic areas below.  I share them now so you can start thinking about them!
Authentic science experiences, including citizen/community science
Project-based learning 
Racism, Diversity, Equity and Inclusion in the classroom
Thank you to Fellows, Lindsey Kemmerling and Kyle Jaynes for planning and coordinating!
New to Zoom video conferencing? Here's a how to video.
Send questions to Kara Haas, KBS Science Education and Outreach Coordinator
Join our mailing list to keep up to date on K-12 Partnership happenings!
KBS K-12 Partnership offers professional development in science teaching! Learn more about the KBS K-12 Partnership.
The KBS K-12 Partnership is funded through the KBS Long-term Ecological Research (LTER) and the Michigan State University Graduate School
New to the Partnership? Learn more here.