Date/Time
Date(s) - 06/22/2021 - 06/24/2021
8:30 am - 12:30 pm


Download Event iCal
Categories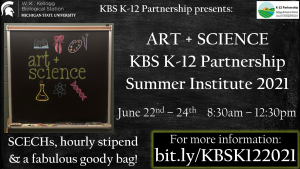 ART + SCIENCE
Thank you to the 86 teachers and 25 presenters that participated in this workshop!  We had an amazing time engaging in science through art whether we were reading, writing, dancing or creating!  If you missed anything, recordings and links to resources are organized in the events agenda (linked below)!
Use the agenda to access all program resources, including recordings, lesson plans and slide shows – we are actively adding details.
The 2021 Summer Institute will be hosted online! Per your feedback we've shortened the format and added grade-band focused concurrent sessions. We are excited to bring together art and science with a focus on creativity and communication.
Application now closed – and applications are in review.
Please apply by June 4, after we review your application, we'll send a registration links for secure zoom access to the Institute.
Who: K-12 teachers and informal educators
When: Tuesday-Thursday, June 22-24, 2021 8:30 am – 12:30 pm
Where: Online via Zoom!
Compensation:

Stipend: $75/teacher/day, upto $225. Stipends are available for Michigan K-12 classroom teachers for each full day of participation.  (stipends will be prioritized for returning K-12 Partnership participants and will be available for a max. of 60 participants)
SCECHs: TBD, likely 4/day (State Continuing Clock Hours)
Goody bag (mail or local pick up at Kellogg Bird Sanctuary): choose a digital or print copy of Cassie Meador's Moving Field guide, stickers, Kellogg Bird Sanctuary free pass and vintage postcards, and more!
We will explore three major themes of art and their unique relationship to science and science education/communication on each day.
Day 1:
Art + Science: Poetry in motion,
Tuesday, June 22, 2021
We will explore the beauty and majesty of using dance and movement to talk about science. The day will start with a plenary by Cassie Meador and Christina Catanese from the

Dance Exchange

.
Day 2:
Art + Science: Writing your story, 
Wednesday, June 23, 2021
Join us as we explore how to leverage the power of the written and spoken word as we think about transmitting science. The day will start with a plenary session lead by

Read and Write Kalamazoo (RAWK)
Day 3:
Art + Science: In the eyes of the beholder, 
Thursday, June 24, 2021
We will wrap up our institute by exploring the affordances and accessibility of using visual art to communicate science at the level of the heat and the heart. The day will start with a plenary session lead by the

MSU Broad Art Museum
Thank you to Fellows, Elizeth Cinto Mejia, Joelyn de Lima, Kyle Jaynes for planning and coordinating!
Braiding Sweetgrass Book Study details, additional PD opportunity this summer. The June 23 Book Study session is integrated within Summer Institute, so there is NO conflict in participating in both programs.
New to Zoom video conferencing? Here's a how to video.
Send questions to the KBS K-12 Partnership team! k12partnership (at) kbs.msu.edu
Join our mailing list to keep up to date on K-12 Partnership happenings!
KBS K-12 Partnership offers professional development in science teaching! Learn more about the KBS K-12 Partnership.
The KBS K-12 Partnership is funded through the KBS Long-term Ecological Research (LTER) and the Michigan State University Graduate School
New to the Partnership? Learn more here.