Date/Time
Date(s) - 03/08/2021
3:00 pm - 4:15 pm


Download Event iCal
Categories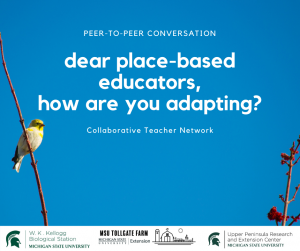 Register here  – and share with your colleagues! 
The Collaborative Teacher Network offers peer-to-peer support for educators at monthly meetings designed to refresh your mind, take you outdoors, and connect you with other teachers. Together, we share and learn ways to venture outdoors confidently, safely, and joyfully with children and use nature for teaching and learning in virtual and/or in person settings.
Every session has:
An

outdoor

social and emotional learning activity that you can modify for your students (bring your coat, hat, mittens, etc!)

Idea sharing

between teachers (whole and small group) and personal reflection time

Strategies for carrying out

place based education in a virtual setting
Register here  – and share with your colleagues! 
Up-Close Observation (March 8): Bring or find a natural object to examine closely. We'll use sketching and listing to connect with the object before we change our perspective to imagine its role in our ecosystem. Materials needed: natural object, paper, writing utensil, outdoor clothes and shoes, access to the outdoors  
Program is free and open to all Michigan-based educators and teachers.  Focus is on K-12 but can be used with preK and college audiences, too.
Hosted by place-based educators from Michigan State University's teaching farms across the state:
Abbey Palmer-  MSU Upper Peninsula Research and Extension Center, Chatham, MI @msunorthfarm
Ellen Koehler–  Tollgate Farm and Education Center, Novi, MI  @ExperienceTollgate
Kara Haas and Misty Klotz – W.K. Kellogg Biological Station, Hickory Corners, MI, @KelloggBioStn Facebook: KelloggBioStn