Date/Time
Date(s) - 03/15/2021
7:00 pm - 8:30 pm


Download Event iCal
Categories
Thanks to those who joined us live!  If you missed it, don't worry! The recording will be posted on our YouTube channel.
Soil is both simple and complex. Simply stated, soil is earth's life support system, anchoring plants and providing solid footing. But soil is also complex, with constantly interacting biological, physical and chemical components, including microbes—tiny bacteria, viruses and fungi.
Join scientists from W.K. Kellogg Biological Station from 7 to 8:30 p.m. Monday, March 15, for the next Dessert with Discussion event: an online conversation about the role soil plays in our lives and how technological advances are now being used to understand the role of microbes in soil health. 
Dr. Sarah Evans, Dr. Jennifer Jones and Ph.D. candidate Tayler Ulbrich will share stories and research focused on the world of microbes under our feet.
Cost: Free
Audience: Adults and high school students
Register to receive meeting details.
Our speakers
Dr. Sarah Evans, Associate Professor, Kellogg Biological Station, Dept. of Integrative Biology; Microbiology and Molecular Genetics
The Evans Lab studies how microscopic organisms – bacteria, fungi, and archaea – function and respond to their environment. We are interested in how microbes respond to disturbances and stress, and what factors alter the diversity of microbial communities, as well as the ecosystem functions that microbes carry out, like cycling nutrients and facilitating plant growth. We assess these processes using a combination of ecosystem and theoretical modeling, field manipulations, and biogeochemical and molecular methods in the laboratory. Since microbes are essentially everywhere, knowledge of how these tiny organisms operate can help us better predict ecosystem responses to global change, optimize ecosystem services, and understand the importance of microbes for the many larger organisms they are associated with.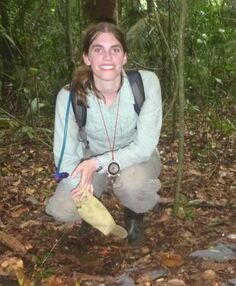 Dr. Jennifer Jones, Research Associate, Evans Lab
Jennifer is a Microbial Ecologist, broadly interested in how microbial communities drive carbon and nutrient cycling. She is from Portland, Oregon, and went to American University for undergrad. She received a PhD from the University of Illinois, where she studied how fungi decompose wood in a tropical forest in Panama. She has been a Research Associate at KBS for the last two years, studying the responses of soil microbes to drought and their implications for increasing drought tolerance in agricultural systems. Outside of work she enjoys walking around the Kellogg Bird Sanctuary and puzzling.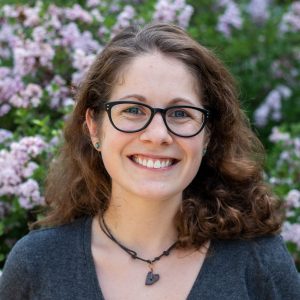 Tayler Ulbrich, doctoral candidate, Evans Lab 
Tayler is a plant-microbial ecologist interested in how microbial communities affect plant health and could improve agricultural sustainability. She is from Des Moines, Iowa and studied Biology at Grinnell College. Her passion for life belowground grew while working with subsistence farmers in Namibia and on a permaculture farm in Costa Rica. Now in the fifth year of her PhD, Tayler is studying how plants interact with soil microbes and she is also working with Michigan farmers to understand their views on microbes and soil health. In her free time, she enjoys gardening, cooking, and exploring nature! 
When we're able to gather in person, we share delicious desserts created by Kellogg Conference Center and Manor House staff. This time, we invite you to enjoy the dessert of your choice during the talk, or try baking some of Chef Josh Bosier's carrot cupcakes!
Carrot cupcakes with cream cheese frosting
Ingredients
1 ¼ cups all- purpose flour
½ cup white sugar
½ cup packed brown sugar
¾ teaspoon baking soda
½ teaspoon baking powder
½ teaspoon salt
1 teaspoon ground cinnamon
¼ teaspoon ground nutmeg
¾ cups vegetable oil
2 eggs (at room temperature)
1 ½ teaspoons vanilla
2 tablespoons milk
1 ½ cups grated carrots
½ cup chopped nuts (optional)
Cream cheese frosting
8 ounces cream cheese (softened)
¼ pound of butter (softened)
Beat cream cheese and butter together thoroughly until there are no lumps then add :
3 ½ cups powdered sugar
2 teaspoons vanilla
Directions
Preheat oven to 350 degrees and line muffin pan with paper liners
In a large bowl whisk together flour, sugars, baking powder, baking soda, salt, cinnamon and nutmeg
Stir in oil. Add eggs one at a time until combined
Stir in vanilla and milk, then add carrots and nuts (if using) and stir until just combined.
Evenly divide the batter into cupcake liners and bake for approx. 20 minutes or until inserted toothpick comes out clean.
Allow to cool completely before frosting with cream cheese frosting.
Yields 12 cupcakes