Date/Time
Date(s) - 10/26/2021
10:00 am - 3:00 pm


Download Event iCal
Location
W.K. Kellogg Biological Station
Categories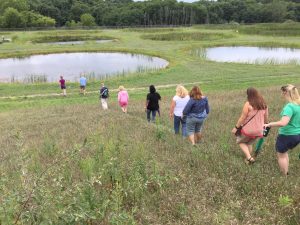 Organisms as Tools for Discovery
During the 2021 KBS K-12 Partnership Field Day we will visit an aquatic and a terrestrial field lab at Kellogg Biological Station! Scientists, Elizeth Cinto Mejia and Kyle Jaynes, will lead sessions that highlight how their research uses organisms (such as plants and fish) to study climate change, evolution and species conservation.
The Field Day allows a small group (30) of educators to look more deeply at research design and data collection methods alongside MSU scientists while making connections to existing curriculum and the Next Generation Science Standards..
This program will be hosted IN PERSON and follow current MSU Covid Safety policies. For more information on MSU's policies, visit https://msu.edu/together-we-will/campus-visitors/  
Register here by Monday, Oct. 18
Who:

30 K-12 teachers and informal educators

When:

Tuesday, October 26, 10 am – 3 pm EST (originally schedule for 9/28)

Where:

In person, at Kellogg Biological Station, outdoors!

Compensation:

$75 participant stipend OR sub-cost reimbursement to districts
Schedule
9:45am Arrival at Kellogg Biological Station (parking lot in front of Manor House and McCrary Dining Hall), then driving to field location
10:00 am Setting Group Norms and Expectations
10:15 am Aquatic Explorations: Using aquatic organisms to understand how biotic interactions influence where species live. Facilitated by Kyle Jaynes
11:15 pm BREAK
11:30 pm Implications for Teaching: Debrief, discussion and debrief of field ecology for young learners and three dimensional learning (NGSS alignment)
12:00 Lunch
12:45 Terrestrial Explorations: Using plants to better understand the impacts of intense heat events. Facilitated by Elizeth Cinto Mejia
2:45 pm Evaluation
3:00 pm Adjourn
Send questions to the KBS K-12 Partnership team! k12partnership (at) kbs.msu.edu
Join our mailing list to keep up to date on K-12 Partnership happenings!
KBS K-12 Partnership offers professional development in science teaching! Learn more about the KBS K-12 Partnership.
The KBS K-12 Partnership is funded through the KBS Long-term Ecological Research (LTER) and the Michigan State University Graduate School
New to the Partnership? Learn more here.