Date/Time
Date(s) - 10/31/2018
8:00 am - 4:00 pm


Download Event iCal
Location
Auditorium (312)
Categories
Science isn't Spooky!
Resources for all sessions here (this link will open a google folder, each session has a title with the same title)
Plenary Speaker: Dr. Kathryn Docherty, Western Michigan University
Costs: Program is FREE. Sub costs will be reimbursed for workshop participants. One form per school building/district. Sub-cost Reimbursement Voucher Form – K-12 Partnership  Please return the form with an INVOICE from your school district. Invoice must include the name of the teacher, name of the sub and the pay rate. Email (karahaas@msu.edu) or mail to Kara Haas, KBS, 3700 East Gull Lake Drive, Hickory Corners, MI 49060.
6 SCECHs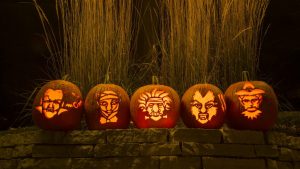 The KBS K-12 Partnership is a joint effort among KBS scientists, MSU College of Education faculty, and science teachers and administrators in southwest Michigan school districts. Since 1999 the partnership has been supported by grants from the National Science Foundation, including awards from the Long-Term Ecological Research Program (DEB), the Teacher Retention and Renewal Program (EHR), awards from the NSF GK-12 Program (EHR), and the NSF Math and Science Partnership. The partnership provides teachers in-depth exposure to research topics in environmental science and training to teach inquiry-based science at the elementary and secondary levels.
Major elements of the KBS K-12 Partnership program are:
Professional development opportunities for teachers and graduate student fellows that focus on providing inquiry-based approaches to learning about and effectively teaching science in the K-12 classroom.
Providing opportunities for K-12 teachers in other programs at KBS and MSU; including serving as mentor teachers for undergraduates studying to be teachers and Research Experiences for Teachers (RET) positions in faculty labs.
Creating new opportunities for K-12 teachers and MSU faculty and students to work together to deepen and improve the way science is taught and communicated in our community.
Learn more about K-12 teacher and student resources and experiences!