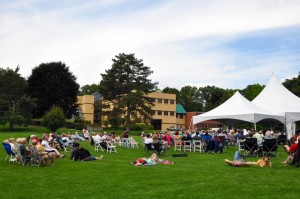 The mission of the W.K. Kellogg Biological Station is to increase our understanding of natural and managed ecosystems and their linkages to society. We are dedicated to sharing our knowledge and expertise with students of all ages! We hope you will engage with us by attending an event, volunteering and visiting.
K-12 teachers and students are welcome at KBS.
This series brings MSU experts to KBS to speak on topics of interest and importance to our community.  Programs are free and open to the public.  Free desserts are served and local organizations are invited to provide information related to the evening's topic.
Graduate student fellowships in Science Education and Outreach: Fellowship Announcement 2017-18, applications due by May 1st.  Contact Kara Haas with questions.