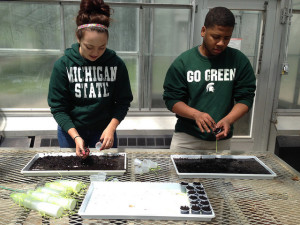 There are lots of opportunities for undergraduates at KBS, including students studying to be K-12 teachers.  Internships in education and special programs will be highlighted on this page when available.
Teaching Evolution Project 2015 (In partnership with BEACON Center for the study of Evolution in Action and MSU's Department of Teacher Education)
Thank you to Jamie Bowman and Jodie McManus for their mentorship.
Congratulations to Diontae Matthews, Kathryn Schwartz and Chris Symons for completing the first summer Undergraduate Research Experience for Teachers!
Many thanks to Louise Mead (BEACON), Tomomi Suwa (KBS) and David Stroupe (MSU College of Teacher Education) for their leadership and collaboration.
Visit the Teaching Evolution website to learn more about find resources here.