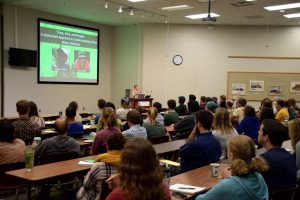 The KBS Eminent Ecologists Seminar brings well-known ecologists and evolutionary biologists to KBS each summer to interact with KBS faculty, students and staff for week-long visits. This year's speakers include Dr. Diana Wall, Dr. Kelly Zamudio, Dr. Elizabeth Borer, and Dr. Eric Seabloom (Eminent Ecologists 2019). The program began in Spring/Summer 1983 and has welcomed more than eighty distinguished speakers from around the globe to KBS (Eminent Ecologists 1983-2018).
'Current Topics in Ecology & Evolution' [ZOL/PLB/CSS 891] include scientists who work on a variety of important topics in ecology and evolutionary biology (see below). For more information about the course, how to enroll, or to schedule a meeting with a speaker, please contact the Graduate Teaching Assistant, Meredith Zettlemoyer (zettlem2@msu.edu), or the instructor, Dr. Nick Haddad (haddad@kbs.msu.edu).
Seminars are held in the auditorium in the Academic Building of KBS and begin at 5:00 p.m.  Seminars are streamed live and recorded.  The live stream is available to MSU participants via Zoom Online Meeting software: Seminar Stream Information.
Eminent Ecologists for 2019
Diana Wall, PhD, Colorado State University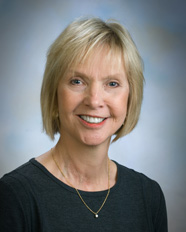 Professor, Department of Biology
Website: https://wp.natsci.colostate.edu/walllab/
Dates: June 10-14, 2019
Seminars:
Monday June 10: Soil life moves to the world stage
Wednesday June 12: Soil life and climate change: lessons from Antarctic cold to hot deserts
Kelly Zamudio, PhD, Cornell University
Goldwin Smith Professor, Department of Ecology & Evolutionary Biology
Website: https://zamudiolab.org/
Dates: July 1-5, 2019
Seminars:
Monday July 1: The global impact of the frog-killing fungus
Wednesday July 3: Evolution and Conservation of Neotropical Frogs
Suggested readings:
Elizabeth Borer & Eric Seabloom, PhDs, University of Minnesota
Professors, Department of Ecology, Evolution & Behavior
Website: https://sites.google.com/a/umn.edu/borer-seabloom-lab/home
Dates: July 9-12, 2019
Seminars:
Tuesday July 9: Dr. Seabloom, Pathogen community ecology: Viral coinfection, coexistence and community composition in grassland ecosystems
Wednesday July 10: Dr. Borer, Your site is my replicate: cutting edge science on a small budget
Suggested readings: 
Dr. Seabloom's seminar:
Dr. Borer's seminar:
How to Enroll
Each speaker gives one or more informal evening lectures, open to the public, and presented in conjunction with a graduate seminar, 'Current Topics in Ecology & Evolution' [ZOL/PLB/CSS 891]. Undergraduate and graduate students may enroll in the course for either 1 or 2 credits; students who plan to fully participate in the course and attend multiple seminars are encouraged to enroll for 2 credits. Enrollment is not required to attend seminars (but encouraged).
Students enrolled in the course participate in group discussions, individual meetings and field trips with the speakers where they can discuss their research interests and future plans. While the program is designed as a graduate seminar for students in residence at KBS, undergraduate or graduate students from MSU's main campus or from other institutions are encouraged to enroll and can take the course for 1 or 2 credits depending on their interest and involvement in course activities.
Past speakers