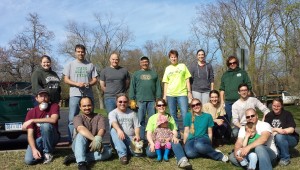 Thank you for your interest in the variety of career opportunities at MSU's Kellogg Biological Station. We hope you will investigate these great opportunities and consider applying to become a part of the KBS team.
FACULTY
POSTDOCTORAL POSITIONS
A postdoctoral research associate position is available in the Haddad Lab at Michigan State University's W.K. Kellogg Biological Station (KBS). A general feature of the Haddad Lab is research at the interface of basic and applied ecology. The lab recently moved to KBS to advance research within the LTER.
The Haddad Lab is seeking a population or community ecologist to work on experimental and observational studies associated with the LTER and set within agricultural landscapes. The primary responsibilities of the successful candidate will include 1) analysis of community, ecosystem, and environmental data collected at the 28-year-old LTER at KBS and 2) design and implementation of experiments in spatial/landscape ecology either within or connected with the LTER.
A doctorate degree in ecology, evolution or conservation is required, as well as experience in the design and implementation of field experiments. Other qualifications include experience within large-scale experiments and knowledge of population and community ecology  (of insects or other taxa).
Interested applicants should apply at careers.msu.edu, job posting #471910. Applicants should submit a cover letter, CV, a brief statement of research interests and accomplishments, and the names and contact information of two references.
STAFF POSITIONS
PART-TIME POSITIONS
TECHNICIAN POSITIONS
SEASONAL POSITIONS
GRADUATE ASSISTANTSHIPS
Science-Education-Fellow-announcement-2018-19_final.pdf please apply by Dec. 1. 2017
Applications for KBS programs will be open from December 15, 2017 – February 15, 2018.  To learn more about our undergraduate research and internship programs, please see our undergraduate programs pages.