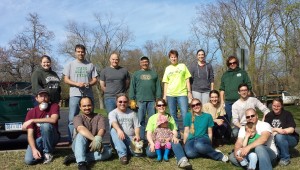 Thank you for your interest in the variety of career opportunities at MSU's Kellogg Biological Station. We hope you will investigate these great opportunities and consider applying to become a part of the KBS team.
FACULTY
POSTDOCTORAL POSITIONS
Research Associate Fixed Term
Position Summary
A Research Associate, Postdoctoral, position in evolutionary biology is available immediately in the Conner lab at Michigan State University's Kellogg Biological Station in Hickory Corners, MI.
The lab studies mechanisms of adaptation by integrating genetics, genomics, ecology and evolution in the field, greenhouse, and growth chamber, using wild radish and Arabidopsis as model organisms. Research focuses on floral and agricultural weed adaptations as well as fitness effects of duplicate genes. Substantial publication and grant-writing opportunities are available using abundant existing data and resources. Bioinformatic expertise required to analyze existing and new sequence data, including creation of the first reference genome for the radish genus Raphanus. Experience with, or a strong interest in, field and greenhouse research also necessary.  This is a one-year position, salary $50,000 with a possibility of extension based on performance and funding.  Contact Jeff Conner (connerj@msu.edu) with questions.
Required Degree
Doctorate
Minimum Requirements
Doctorate degree
Required Application Materials
Cover Letter
CV
Names and contact information of 3 references
Review of Applications Begins On
11/15/2019
MSU Statement
Michigan State University has been advancing the common good with uncommon will for more than 160 years. One of the top research universities in the world, MSU pushes the boundaries of discovery and forges enduring partnerships to solve the most pressing global challenges while providing life-changing opportunities to a diverse and inclusive academic community through more than 200 programs of study in 17 degree-granting colleges.
Research Associate GLBRC
Applications are being accepted for a postdoctoral research associate in terrestrial biogeochemistry to investigate nitrogen and carbon cycling in bioenergy cropping systems. The position is part of the DOE's Great Lakes Bioenergy Research Center (glbrc.org), located at the KBS Long-term Ecological Research site (lter.kbs.msu.edu). Preferred start date is January 2020, with application review to begin in December. The successful applicant will join a team investigating the sustainability of bioenergy cropping systems, and in particular aspects of greenhouse gas fluxes and soil nitrogen and carbon dynamics. The appointment is for one year with extensions expected. Start date is flexible, but Winter 2019/2020 is preferred. Describe your preferred start date and/or constraints in the cover letter. Salary is $50,000 per year; university benefits apply, including health and dental insurance. The position is based at KBS, located in SW Michigan near Kalamazoo, about 60 miles from East Lansing. More information about KBS can be found at kbs.msu.edu. Questions can be directed to G. Philip (Phil) Robertson at robert30@msu.edu. More details and apply at https://careers.msu.edu/cw/en-us/job/502560/research-associatefixed-term). Michigan State University is an affirmative action, equal opportunity employer.
Research Associate
Updated June 2019
A postdoctoral position is available in the Litchman and Klausmeier Labs at Michigan State University. The research associate will participate in a NASA Exobiology funded project in collaboration with researchers from France and Germany on modeling the evolutionary emergence of diverse microbial metabolisms. We are looking for a quantitative modeler who uses cellular metabolic models such as Flux Balance Analysis, Elementary Flux Modes Analysis and others. In addition, experience with eco-evolutionary modeling would be advantageous and the manuscript writing skills are essential.
The position is for one year initially, renewable depending on performance and continued funding. Start date is as soon as possible. Interested applicants should apply through careers.msu.edu (posting #520342) and include a cover letter describing motivation, research interests and relevant experience; a CV; and the names and contact information of three references.
Review of applications will continue until the position is filled. For questions on this position, email Dr. Elena Litchman (litchman@msu.edu).
Research Associate
A postdoctoral position is available in the Klausmeier and Litchman Labs at Michigan State University. The research associate will participate in a collaborative NSF-funded project on the origin and maintenance of intraspecific trait diversity in phytoplankton. We are looking for a modeler to develop eco-evolutionary models of trait diversity. A familiarity with plankton systems would be advantageous but not required.
The position is for one year initially, renewable depending on performance and continued funding. Start date is as soon as possible. Interested applicants should apply through careers.msu.edu (posting #520388) and include a cover letter describing motivation, research interests and relevant experience; a CV; and the names and contact information of three references. Review of applications will begin August 10, 2018 and continue until filled. For questions on this position, please contact Dr. Chris Klausmeier (klausme1@msu.edu).
STAFF POSITIONS
KBS-LTER Science Coordinator
We seek a Science Coordinator for the Long-Term Ecological Research (LTER) program (lter.kbs.msu.edu) at Kellogg Biological Station (KBS), an off-campus academic unit of Michigan State University (MSU). The Science Coordinator will support the LTER efforts to promote transformational science at the LTER. This is an annual (12 month) Academic Specialist appointment with competitive salary and benefits.
Responsibilities
The Science Coordinator will be responsible for promoting and coordinating KBS LTER research activities together with the LTER Director and other faculty collaborators. The Science Coordinator will 1) promote research opportunities to prospective junior and senior investigators; 2) promote cohesion among current investigators; 3) help to coordinate research governance; 4) ensure protocols and sampling programs are up-to-date; 5) represent and promote KBS LTER science to research networks; 6) coordinate design and implementation of experiments; and 7) engage in other activities designed to advance research at the site.
The Science Coordinator will report to the KBS-LTER Director (Nick Haddad) and will work closely with the KBS-LTER Executive Committee, Information Manager, Education and Outreach Coordinator, and Research, Information, and Agronomic Manager, and other staff. This position requires a person with strong skills in research, organization, management, and team-building.
Qualifications
Qualifications include a Ph.D. in ecology, geography, environmental science, or a related field. Previous experience in research and/or program management with an agronomy/ecological/natural resource focus is desired, with evidence of meeting goals and participation in grant writing activities.
Salary range: $55,000-$70,000 commensurate with experience
Application: (1) a cover letter with a statement of interest, relevant skills, and work experiences; (2) a CV; and (3) names and contact information for three professional references. Candidates must apply to Position 593789, Careers@MSU http://careers.msu.edu/cw/en-us/job/502008/specialist-researchfixed-term
If you have questions about the position, contact Nick Haddad, haddad@kbs.msu.edu
MSU is an Affirmative Action, Equal Opportunity Employer. Women, first-generation college students, and persons underrepresented in the sciences are encouraged to apply.
Maintenance Worker I
The successful candidate will be part of the full-time facility maintenance team supporting 380,000 gsf of technical research laboratory, educational, and agricultural facilities at the Kellogg Biological Station (KBS). Employee will respond to unplanned facility and utility maintenance emergencies within 45 minutes to provide prompt response to after-hours call-in situations. The job includes but is not limited to: provide condition monitoring to a variety of commercial and residential building mechanical systems; diagnose and repair facility issues involving building equipment, exterior components, interior structural and hardware components, and various building systems; monitor and repair building electrical distribution systems ranging from 120 to 480VAC in a wide range of industrial and residential facilities; provide routine maintenance and repair services to a wide range of HVAC systems with varying ages and complexity; responsible for condition monitoring, maintenance, and repairs to a variety of commercial and residential water system components. Must be available for after-hours emergency response one week/month. This is an off-campus position located at a Michigan State University facility located in Hickory Corners, MI (over 70 miles away from East Lansing).
Unit Specific Education/Experience/Skills
One year of satisfactory experience or an equivalent combination of technical training and experience in repair methods, equipment, and tools of the various building trades is necessary.
Possession of a valid Michigan vehicles operator's license(s) is necessary.
Supply own tools.
Frequent lifting of less than 25 pounds and occasional lifting of over 75 pounds is required.
Desired Qualifications
Three to five years of experience, certification with repair methods and tools required for working with commercial and residential HVAC, electrical, and piping systems plus a general working knowledge of basic building mechanical equipment; at least one year of formal education or technical training in preventive maintenance or at least one year of relevant experience maintaining a variety of facility equipment including laboratory, agricultural and/or industrial facilities; good interpersonal communication skills; familiarity with Microsoft office products; five to eight years of maintenance or construction project management experience or a combination of training and experience in reliability centered maintenance practices; knowledge of basic laboratory and agricultural practices and routines highly desirable; familiar with KBS properties, functional organizations, and maintaining residential properties highly desirable.  The ability to work with a team, effectively communicate, and experience with smartphones and computers.
Work Hours
8:00-4:30, occasional evenings and weekends, weekly on-call rotation of approximately one week per month.
Building Location
KELLOGG BIOLOGICAL STATION
Summary of Physical Demands
Physical demands are lifting 25lbs, carrying 25lbs, pushing/pulling a cart/dolly and climbing ladder and stairs well carrying 25lbs.
To apply, visit careers.msu.edu
If you have questions, contact Brad Osborn.
PART-TIME POSITIONS
TECHNICIAN POSITIONS
TEMPORARY/ON-CALL POSITIONS
SEASONAL POSITIONS
GRADUATE ASSISTANTSHIPS
Applications for KBS programs will be open from December 15, 2019 – March 1, 2020.  To learn more about our undergraduate research and internship programs, please see our undergraduate programs pages.
Undergrad Resident Mentors