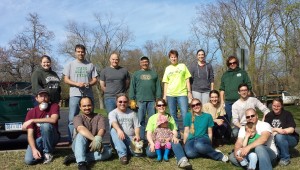 Thank you for your interest in the variety of career opportunities at MSU's Kellogg Biological Station. We hope you will investigate these great opportunities and consider applying to become a part of the KBS team.
FACULTY
POSTDOCTORAL POSITIONS
STAFF POSITIONS
Custodian II
Perform such cleaning duties as dust mopping, wet mopping, and polishing of hard floor surfaces; strip, scrub, refinish, and seal resilient and wood floor surfaces; clean and disinfect restrooms, including showers, toilets, urinals, sinks, towel dispensers and mirrors; wash walls, ceilings, doors, and windows; empty large and/or heavy waste receptacles; replace fluorescent and incandescent lights, and report any mechanical failures in the building; move furniture and equipment within a building during floor reconditioning procedure, utilizing appropriate equipment; maintain building entrances by performing such duties as sanding, salting, sweeping, and clearing with snow removal equipment; assess the cleanliness and prioritize the cleaning tasks for assigned space; act as an environmental steward in the building's recycling collection program, including collecting and sorting recycling materials and minimizing energy waste within the building; operate heavy mechanical power cleaning and scrubbing equipment; clean and maintain assigned equipment; follow University, departmental and OSHA safety regulations; assist in the training of new support employees.
Apply for this position at the MSU Applicant Page using posting number 4885.

PART-TIME POSITIONS
Part-time Custodian
Perform routine custodial duties in the educational, research, and office buildings at The Kellogg Biological Station. This is a part-time position working between 12-24 hours per week and 1-5 days per week between Monday and Friday. Specific work schedule is flexible based on individual's experience and availability.
Knowledge of commercial cleaning methods, techniques and equipment required
Frequent lifting of up to 25 pounds is required, occasional lifting of 50 pounds
Pass background, reference checks and drug screening
1-6 months experience in non-residential custodial care
Valid Michigan driver's license
High school diploma or GED
Able to speak and understand English
$9.50/hr.
Interested parties should contact 269-671-2500 for more information.

TECHNICIAN POSITIONS
SEASONAL POSITIONS
MSU Vegetable Agriculture Research Assistant
Responsibilities:
The primary function of this position will be to support in MSU research of organically and conventionally managed vegetables. The aim of this research is to improve the sustainability of vegetable production in Michigan through mechanical cultivation, reduced tillage, and the use of improved varieties. The successful applicant will assist with crop planting, plot maintenance, harvesting, data collection, and tractor operation (with previous experience) at the Kellogg Biological Station in Hickory Corners, MI. Responsibilities could also include some field work at Southwest Michigan Research and Extension Center (drive time compensated). This position requires travel to the Kellogg Biological Station by the successful applicant.
Minimum Qualifications:
Ability/desire to work outside 95-100% of time.
Ability to work in adverse weather conditions.
Ability to lift up to 30 lbs.
This position requires possession of a valid vehicle operator's license.
Desired Qualifications:
Experience with tractors with manual transmissions.
Experience with 3-point hitch implements.
Experience with PTO driven equipment.
Experience with hauling trailers.
Ability to drive university vehicle requiring medical certification.
Agricultural plot research experience.
Proficient with Microsoft Word, Excel, and PowerPoint.
Dates: May – September (end date flexible)
Hours: 40 hrs/week
Salary: $9.50 – $11/hour (based on experience)
To apply: Email resume and brief cover letter to Corey Noyes (noyes@msu.edu), Subject: KBS Position. Application deadline is March 24, 2017.
GRADUATE ASSISTANTSHIPS
Applications for KBS programs will be open from December 15 – February 15, 2017.  To learn more about our undergraduate research and internship programs, please see our undergraduate programs pages.