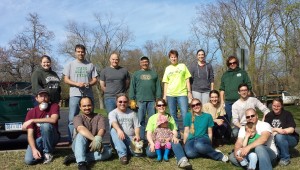 Thank you for your interest in the variety of career opportunities at MSU's Kellogg Biological Station. We hope you will investigate these great opportunities and consider applying to become a part of the KBS team.
FACULTY
POSTDOCTORAL POSITIONS
Research Associate
Updated June 2019
A postdoctoral position is available in the Litchman and Klausmeier Labs at Michigan State University. The research associate will participate in a NASA Exobiology funded project in collaboration with researchers from France and Germany on modeling the evolutionary emergence of diverse microbial metabolisms. We are looking for a quantitative modeler who uses cellular metabolic models such as Flux Balance Analysis, Elementary Flux Modes Analysis and others. In addition, experience with eco-evolutionary modeling would be advantageous and the manuscript writing skills are essential.
The position is for one year initially, renewable depending on performance and continued funding. Start date is as soon as possible. Interested applicants should apply through careers.msu.edu (posting #502236) and include a cover letter describing motivation, research interests and relevant experience; a CV; and the names and contact information of three references.
Review of applications will continue until the position is filled. For questions on this position, email Dr. Elena Litchman (litchman@msu.edu).
STAFF POSITIONS
PART-TIME POSITIONS
TECHNICIAN POSITIONS
TEMPORARY/ON-CALL POSITIONS
Research Technical Aide
A part-time (29 hours/week) temporary research position is available at MSU's Kellogg Biological Station in Hickory Corners, MI. Projects deal with evolutionary genetics of plants; see jeffreykconner.com for details. Duties are primarily conducting experiments in the greenhouse, laboratory, and field, with opportunities for independent projects. Bachelor's degree in biological sciences and experience with ecological and evolutionary research in the greenhouse and field preferred. Minimum of $13/hour, higher depending on education and experience.
To apply, please submit resume, cover letter, and two references.
SEASONAL POSITIONS
GRADUATE ASSISTANTSHIPS
Applications for KBS programs are open annually from December 15 to March 1. To learn more about our undergraduate research and internship programs, please see our undergraduate programs pages.
Undergrad Resident Mentors
Where: W.K. Kellogg Biological Station, Michigan State University
3700 E. Gull Lake Drive
Hickory Corners, Michigan 49060
Start-End dates: Tuesday, May 12 to Sunday, August 2, 2020
DEADLINE FOR APPLICATION: Friday, April 3, 2020
POSITION DESCRIPTION:
The W.K. Kellogg Biological Station (KBS) seeks up to 3 individuals to provide on-site logistical support and guidance to undergraduate students in residence for summer programs.
'Resident Mentors' will work together along with the KBS Academic Program Coordinator and the KBS Graduate Fellows to create a safe and supportive learning community for the students in residence at KBS for the summer.
These are residential positions, and the Resident Mentors are required to live on site at KBS (FREE room and board provided) and be on duty primarily during evening and weekend hours.
The key responsibilities of this position include:
Orientation and Social Initiatives
• Plan and lead community building activities including exploration of KBS facilities (KBS Farm and Dairy, LTER, GLBRC, Bird Sanctuary, etc.), weekend field trips, movie nights, trips to the grocery store, etc.
• Maintain consistent and ongoing contact with residents both individually and as a community; be approachable, receptive and supportive.
• Encourage and support student involvement in the recreational, social, and academic opportunities at KBS.
• Manage a $500 budget used for student activities. Many activities in the area are free, and in the past RMs often organized activities/BBQs where students pitch in a few dollars each to participate.
• Resident mentors will also have access to MSU vehicles (Dodge Caravans) for program and group activities, or emergencies; MSU vehicles cannot be used for personal errands.
Supervision/Safety
• Responsible for working together effectively to accomplish goals and provide leadership for nearly 100 undergraduates in residence at KBS for the summer.
• Communicate MSU/KBS safety procedures to students and respond to emergencies. Provide appropriate interventions as necessary.
• Support MSU/KBS policies, regulations and procedures.
• Keep supervisor informed of any issues with students or student housing (e.g. serious interpersonal problems, mentor-mentee problems, housing/food issues); keep KBS Conference Center staff aware of any issues with student housing/food
Problem Resolution and Conflict Management
• Assist residents in establishing community standards; work to create a consistent civil and respectful atmosphere.
• Encourage the development of an environment that is inclusive of diverse backgrounds.
• Address inappropriate student behavior and assist students with ways to change behaviors through the educational discipline process and making appropriate decisions.
• Mediate conflicts between residents.
• Interpret and explain university, academic, and housing policies.
• Refer students in need of help (heath, mental health, mediation, etc.) to appropriate resources, make appropriate referrals and follow-up.
PAY/COMPENSATION:
Resident mentors will receive a $2500 stipend for the summer. FREE housing in a furnished apartment and meals (16 meals/wk; Breakfast: M-F, Lunch: M-F, Dinner: M-Th, Brunch: Sat & Sun) are provided at KBS.
***Mentors must either be enrolled in a KBS summer course, OR may earn an additional stipend (up to $1500) through participation in part-time research, outreach/education, or other professional experiences across KBS. If the applicant has not already secured an additional part-time research, outreach/education, or other professional experience at KBS, the KBS Academic Programs coordinator can help facilitate placement.
QUALIFICATIONS:
Mentors will need experience in leadership, planning, implementing group activities, and group problem solving. Prior experience as a residential advisor or mentor on a college or university campus is an asset, but not strictly required.
Love of outdoor activities and a positive attitude are essential. The ability to swim and canoe, and CPR certification are a plus. Previous experience in residence life, study-abroad, or other student life programming strongly preferred.
A valid driver's license and background check are required.
CONDITIONS OF EMPLOYMENT:
The job requires that the Resident Mentor be in residence at KBS and live on site for the entire duration of this appointment (May 12 to Aug 3, 2020). Mentors must be available and accessible to residents evenings and weekends.
TO APPLY:
Please send a single PDF that contains a cover letter explaining your interest in the position and any prior relevant experience, your resume/CV, and the names of at least 2 references via email to:
KBSsummer@kbs.msu.edu
Or by mail to:
KBS Academic Programs
Academic Programs Coordinator
Kellogg Biological Station
3700 E. Gull Lake Dr.
Hickory Corners, MI 49060