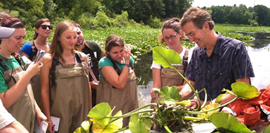 KBS summer courses for undergraduates and graduate students are truly a unique experience!
Research, and exposure to the methods and equipment that scientists and professionals use in the field and lab, is an integral aspect of all of our courses.  A summer course at KBS is a great way to gain hands-on experience and earn credits!
Course sizes are limited to 16-18 students and our classes run all day (usually 1-3 days per week), so there is plenty of time to interact with your instructors and be out in the field!
Please check back in November for Summer 2019 offerings!
Course Application & Enrollment
Housing at KBS
Tuition
Launch Your Major at KBS!
1st Session Undergraduate Courses (May 21-June 22, 2018)
2nd Session Undergraduate Courses (July 2-August 3, 2018)
KBS Graduate Courses and Workshops
All undergraduate courses at the 400-level may be taken for graduate credit at MSU!  Please note that some graduate courses and workshops below may have links to additional information or application materials.
The ELME (Enhancing Linkages between Math and Ecology) courses are 1-week intensive stats courses designed so that you may work with your own data.  You can opt to take all 3 weeks of ELME courses, or the 1 or 2 weeks most applicable to your own project needs.
In order to register for any field, or ELME, courses you must submit the KBS online course application.