Date/Time
Date(s) - 05/21/2020
7:00 pm - 9:00 pm


Download Event iCal
Location
Auditorium (312)
Categories
This event is postponed.
Cornell Lab of Ornithology Executive Director John. W. Fitzpatrick, will share: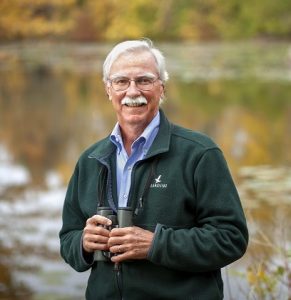 the power of birds for capturing both our hearts and our minds,

how we can harness these unique powers to help human societies live sustainably with healthy and functioning natural systems,

exciting results from the Cornell Lab's ongoing analyses of eBird, the world's largest and most rapidly growing citizen-science project on biodiversity
Enjoy coffee, tea and delicious locally sourced desserts provided by the KBS Conference Center. A cash bar featuring house wines and Michigan craft beer available prior to the event.
Doors open at 7 p.m., talk from 7:30-8:30 p.m.
REGISTER TODAY FOR THIS FREE COMMUNITY EVENT!

Since 1995 Fitzpatrick has been Executive Director of the Cornell Lab of Ornithology and professor in the Department of Ecology and Evolutionary Biology at Cornell University.
A native of St. Paul, Minnesota, Fitzpatrick graduated from Harvard University in 1974, and received his Ph.D. in biology from Princeton University in 1978. He served as Curator of Birds and Chairman of Zoology at the Field Museum of Natural History in Chicago from 1978 through 1989, and was Senior Lecturer at the University of Chicago.
From 1988 to 1995 he was Executive Director of the Archbold Biological Station in central Florida, where he still continues his now 50-year-long collaborative study of the ecology, behavior, landscape genetics, and conservation of the endangered Florida Scrub-Jay. While at Archbold, Fitzpatrick founded North America's premier subtropical agro-ecology research center at Buck Island Ranch, and he was instrumental in the creation of a new National Wildlife Refuge for the protection of endangered flora and fauna on the Lake Wales Ridge ecosystem.
At Cornell, Fitzpatrick has led the dramatic growth of the Cornell Lab of Ornithology into a world-renowned center for ornithology, conservation science, and public engagement. With his colleagues he has pioneered the development of citizen science. The Lab's flagship, internet-based platform, eBird, now receives over a million bird checklists monthly, making it the world's largest citizen-science project and a revolutionary, global standard for ecological monitoring.
Past Dessert with Discussion Presenters
---
Check back soon for informational booths and sponsorship opportunites.