It was an early spring morning in the early 2000s. Back then I was a Natural Resource Management undergraduate at Grand Valley State University, and I was interested in finding opportunities to gain research experience and get paid! I had spoken with my undergraduate mentor about opportunities to gain experience and earn money during the summer. She had suggested looking at universities with Research Experiences for Undergraduates (REU) programs. I learned I could apply for an REU position with Kellogg Biological Station (KBS) in Kalamazoo, Michigan.
As soon as I read it, I was very interested in the project because it was an opportunity to do field work in both agriculture and forest systems! I talked with my undergraduate mentor about the opportunity and contacted Richard Smith, the then-Ph.D. student mentoring the project, to learn more. After hearing more about the project, I decided to apply! Later that spring, I heard news that I was selected to receive the position. I don't think I can put into words how excited I was!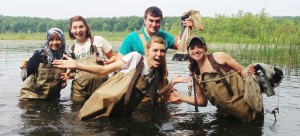 That summer, I moved to KBS and began a project with Richard and Dr. Kay Gross, evaluating the impacts of earthworms on weed seed movement and distribution in agricultural and forested systems.
In addition to gaining the experiences of developing my own research project and working with leading researchers in the field of agro-ecology, I also remember experiences such as learning how to count and measure seeds in the laboratory, and being in the field counting earth casts (AKA poop).
I have great memories of the relationships I built with researchers and other students at KBS. The environment at KBS was very relaxed and open. My day-to-day life at KBS was fun and filled with opportunities to learn about and take part in other students' research.
Looking back, I realize how many of those experiences opened opportunities for me and solidified my interest in becoming a research scientist. I was able to attend weekly seminars, led by visiting and resident researchers, which allowed me to meet many leading scientists I would have otherwise never met as an undergrad.
One fond memory of mine in particular was a field trip with Dr. Gary Mittelbach to sample fishes in a nearby lake. I think this experience, along with many of the other experiences I had in field labs as an undergraduate, solidified my passion for freshwater ecosystems and my interest in researching them. While I was at KBS researching agro-ecosystems, I was able to complement that research with other experiences that helped me to further develop my longer-term research interests.
Why consider an REU at KBS?
Since my time at KBS, the REU program has grown and developed. I see that in recent summers many more students have had REU opportunities. This growth is fantastic and demonstrates both the interest of students and the success of the program. As a postdoctoral researcher, I can reflect on the reasons why being an REU at KBS is a good idea for undergraduates. The primary reason undergraduates should consider an REU is experience – not just research experiences, but life experiences that will stay with you forever.
The experiences you will have at KBS are unlike any you could get at University or through a summer job. The feeling of being a team is a great part of the REU experience, and also helps you as an undergraduate realize that successful science and research depends on a diverse team of people working together to achieve common goals. There are a diversity of opportunities as an REU and I encourage undergraduates to explore the possibilities and adventures. There is so much to learn and see!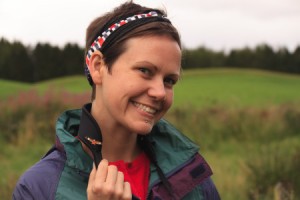 DR. STEPH JANUCHOWSKI-HARTLEY
Ph.D., James Cook University
M.S., Grand Valley State University
B.S., Grand Valley State University
Dr. Januchowski-Hartley is a conservation scientist and educator. Her research is focused on developing tools and approaches for addressing complex questions about impacts of human modifications on natural systems and how we can best allocate limited dollars to mitigate impacts. She primarily studies freshwater ecosystems, but has also dabbled in projects related to marine and terrestrial conservation. She has a recently realized passion for communicating about science and conservation, and is engaged in diverse programs both online on social media, and offline in schools and communities. To learn more about her work, visit her website and follow her on Twitter.

To learn more about the REU program at KBS and apply, visit our undergraduate programs page. The deadline to apply for 2016 undergraduate programs is February 15.