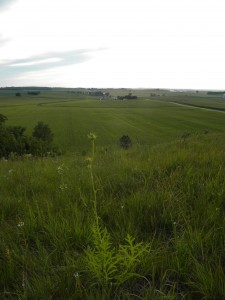 We have been hard at work developing a lesson about how the SW Michigan landscape (specifically the area around KBS) has changed over the past two centuries. We envision this land use history lesson as the core of a flexible module for addressing standards on human impacts on the environment. By examining how human land use has changed, students can explore questions about how those changes address changing human needs through time, how those changes have impact the environment, including ecosystem services, and develop models for solutions to environmental problems. If you would like to have a fellow come to your class to help with these lessons (or any of the other lesson plans found in our interactive table) please send a request to gk12fellows@kbs.msu.edu and one of our fellows will get back to you!
Featured Lesson Plans:
1) Lessons of History: Land Use Change 1830-2013
Human activities have significantly altered the biosphere, sometimes damaging or destroying natural habitats and causing the extinction of other species. But changes to Earth's environments can have different impacts (negative and positive) for different living things. Typically, as human populations and per-capita consumption of natural resources increase, so do the negative impacts on Earth, unless the activities and technologies involved are engineered otherwise. In this lesson, students track land use change from a 'natural' reference state (1830) to pre-WWII (1938) to the current time (2013), develop predictions, and use qualitative or quantitative data to evaluate the impacts of land use change.
2) BEST Plot Landscape Protocol: Landscape Legacy Application
Understanding the landscape surrounding our school districts, cities, and homes can help us understand how the landscape is impacting our local environment and watershed. This lesson uses the Google Earth application to gain a better understanding of how a parcel of land has changed through time. This exercise offers a unique opportunity for any classroom to take part in BEST plot research even if BEST plots are not present or accessible.
3) Farming for Ecosystem Services
In this lesson students will explore the relationship between biodiversity and ecosystem services, from basic ecological theory to their economic value. Provided with a short introduction to the types of ecosystem services and their importance, students will play a game where they must make decisions regarding how to invest a limited amount of money on their own for-profit farm—can they manage economic and ecological trade-offs to design a productive farm that also enhances ecosystem services?
4) Ecosystem Services in the Schoolyard
This is a mostly outdoor lesson focused on how the landscape directly around the school impacts the benefits that nature provides to humans, or ecosystem services. Students explore how the parking lots, lawns, and wooded areas and fields surrounding their school have different consequences for different ecosystem services. Students then brainstorm ideas and develop models for improving one service in particular, water quality. This lesson also works well as a field trip to KBS and the Kellogg Bird Sanctuary.