The current group of fellows (and their research interests) are listed below. In addition to other work they do for the partnership, they would be happy to visit your classrooms and interact with students. Invite a fellow into your classroom, email Kara Haas to make a request!

Dustin Kincaid: Hidden wetlands, meandering streams, and lakes of all sizes are abundant in southwestern Michigan. Hopefully you've had the chance to recreate on or near one of these unique water bodies recently. Or snapped a few hundred photos of a setting sun over your favorite lake. And maybe if you're like me, you've thought about how much carbon these ecosystems store. Or how they affect the water quality of downstream ecosystems. And then again, maybe not. But that's okay; that's my job.
My research focuses on how small water bodies process materials like organic matter and nutrients (e.g., nitrogen and phosphorus). I specifically study how overlying water and emerging ground water interact with muddy sediments we encounter frequently in wetlands and lakes. When and where does water move in these sediments? How does this affect decomposition and nutrient release in the mud? And how does this all affect water quality?
I'm looking forward to working with you and your students once again. I'd love to help you and your students dip your toes in one of our local streams, wetlands, or lakes. Or bring any number of ecology, chemistry, or hydrology lessons to your classrooms.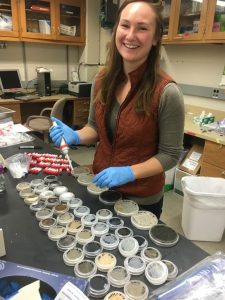 Heather Kittredge: Microbes are everywhere! It is estimated that one gram of soil harbors 10,000 to 50,000 different species, but it is unclear how these different species contribute to ecosystem processes such as plant growth, decomposition or CO2 emissions. This is particularly important when rates of environmental change exceed the capacity for microbial populations to adapt, leading to the loss of many microbes and the loss of ecosystem services provided by microbial communities.
To better understand the potential for microbial communities to adapt to environmental change, I study the process of new genes entering a community and restoring ecosystem services. Genes that enter a community through migration could save microbial communities OR beneficial genes that are already present in a community could be transferred between bacteria. The swapping of genes is a capability unique to microbes and has largely contributed to the vast diversity of microbial life on earth, but this process is rarely studied in complex systems such as soil. Therefore, to get a better understanding of how migration and gene swapping can influence ecosystem processes, I study genes that give bacteria the ability to fix atmospheric N2 into NH3. Studying nitrogen fixation as an ecosystem service has practical applications in that fixing nitrogen can increase microbial survival when nitrogen is unavailable in the soil. More importantly, N fixation offers a valuable ecosystem service as N often limits crop and terrestrial plant productivity.
Through my research I have come to love microbes and I think they are extremely important in providing ecosystem services. I believe that if scientists want to accurately predict how the environmental will react to rapid environmental changes, we must account for the altered activity of microbial communities. Along this line, I am always excited by opportunities to teach students of any age about the importance of microbes. It is an exciting time to work with microbes in any capacity, whether it is mathematical modeling, biochemistry or genetics!
Learn more about Heather and her research:
Blog post: BACTERIA GIVE US THE DIRT ON THE SOIL ENVIRONMENT
Lesson created by Heather: Antibiotic Resistance Lesson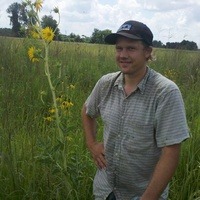 Tyler Bassett (fall 2016): Plants are everywhere, and everywhere they are different. If you love plants as much as I do, all of that biodiversity makes the world an endlessly curious place. Why is that species here . . . and not there? How have certain plant species come to form the plant communities we see today? How is each community differently responsible for providing the clean air, pollinator habitat, and all the other 'services' that nature provides, free of charge? As a scientist, I explore questions like these in order to understand how to better restore damaged ecosystems. The better we understand how nature works, the better we can put the pieces back together. Working with the K-12 partnership gives me an opportunity to pass on my passion and curiosity about the natural world. Teaching science by doing science gives students the skills to understand both the wonder and the value of biodiversity, and be more willing to protect it. I am excited to do my small part to facilitate that process.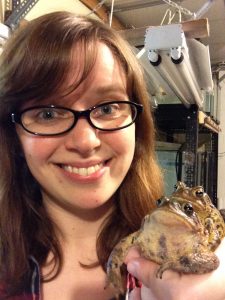 Sara Garnett (fall 2016): Like most people with siblings, I am familiar with the potential for conflict in family relationships. Despite frequent competition with brothers and sisters for toys, parental attention, and access to the remote, you still love them and want them to succeed. This pattern is not unique to human families; seeking a balance between cooperation and competition happens in a wide variety of animals. We're used to thinking about nature as a competitive place, where only intense fighting for shelter, food, and mates will bring success, but we see individuals put themselves at greater risk to predators or compete less intensely for food or mates when relatives are involved. Because relatives share at least some of the same genes, behaving in ways that help relatives survive and reproduce can be an effective strategy for an individual to pass its genes on to the next generation. This raises questions about when it is best for an individual to focus on itself vs. its relatives, as well as the strategies animals use to maintain this balance.
My research examines these questions using American toad tadpoles. They prefer to swim near siblings rather than non-siblings in their birth ponds, using chemicals in the water to tell them apart. I am investigating whether these chemicals might provide information that influence how quickly tadpoles grow and develop, or how intensely they compete for food. In particular, I am interested in whether they respond differently to siblings than non-relatives in different environments. By looking at how these factors influence tadpole growth, I can get an idea of how tadpoles improve the chance that they (and their siblings) will make it out of the pond in a variety of environmental conditions.
The KBS K-12 Fellowships are funded by The Graduate School at MSU and the NSF GK12 program.