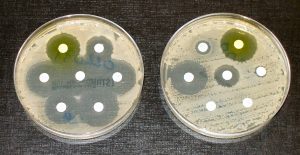 The overuse of antibiotics has led to human pathogens that are resistant to many classes of antibiotics, a phenomenon known as antibiotic resistance.
A world where most antibiotics are useless against bacterial pathogens is very scary. As doctors administer antibiotics for everything from curing the common cold to heart transplants and cancer treatments this world becomes more possible. Evolution is the mechanism through which pathogens become resistant to antibiotics. This poses a challenge for researchers that must constantly race against bacteria's ability to quickly regenerate and accumulate mutations that may confer resistance. Public concern over the rise of antibiotic resistance has pushed research universities and large pharmaceutical companies to invest in finding new classes of antibiotics.
In this lesson:
Learn about the newest class of antibiotics as well as the current classes of antibiotics and the biological processes behind antibiotic resistance! Finally, finish the lesson with a delicious game that models how resistant pathogens alter population dynamics using M&Ms and marshmallows.
Grade level: High school, 1 hour activity
This lesson was created by Heather Kittredge, KBS K-12 Fellow 16-17 and presented at the Fall 2016 K-12 Partnership Workshop, see full description. For questions or suggested improvements, please email Heather.
Materials:
Antibiotic-Resistant-Worksheet