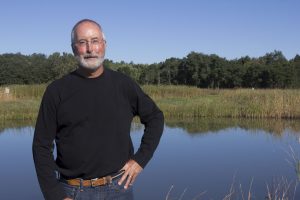 Congratulations to KBS faculty member Gary Mittelbach on receiving the William J. Beal Outstanding Faculty Award on February 7, 2017.
Mittelbach is an internationally recognized ecologist whose research has contributed novel and lasting insights into complex biological systems. His breakthrough research conducted at KBS established MSU as the epicenter for studies in aquatic ecology.
Among the world's most cited researchers in ecology, Mittelbach has published more than 100 scientific papers with more than 15,000 total citations; five of his papers have each been cited more than 1,000 times.
Mittelbach is committed to educating the next generation of scientists. For more than twenty years, he has served as lead instructor in "Population and Community Ecology," the primary ecology course for graduate students in MSU's Ecology, Evolutionary Biology and Behavior program. He has mentored twelve Ph.D. students from his lab, all of whom continue to make important contributions at academic institutions. Read more about Mittelbach and the other Beal Award recipients at MSUToday.
The William J. Beal Outstanding Faculty Awards (formerly the Distinguished Faculty Awards) are made each year to members of the regular faculty for outstanding total service to the University.
In addition to receiving the University's Beal Outstanding Faculty Award, Mittelbach was also recognized by the College of Natural Science (NatSci) last November with the NatSci Outstanding Faculty Award.