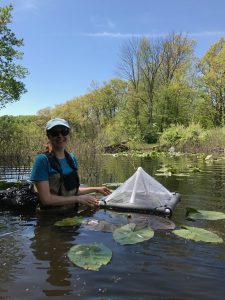 When most people think of NASA, they might think of astronauts on the International Space Station, a rover on Mars, or stars a million light years away – not necessarily freshwater insects in ponds at KBS!
Aquatic ecology Ph.D. student Laura Twardochleb was recently awarded NASA's Earth and Space Science Fellowship, renewable for up to three years, to study freshwater biodiversity. Her research could benefit the future of conservation and biodiversity planning in the face of climate and land use change.
"I didn't know until a month before I applied that I could use NASA data for this type of research, or that they gave out money to ecologists," said Twardochleb, whose advisor, Phoebe Zarnetske, already has a NASA grant for biodiversity research and encouraged her to apply.
Because of this Fellowship, Twardochleb's research data will span the spectrum from small-scale aquatic experiments to satellite images. Twardochleb currently has experiments at KBS and field sampling at Lux Arbor Reserve, a KBS research site (pictured above right), and has worked in KBS professor Gary Mittelbach's lab for the past two summers.
"Laura's work is new and exciting in that it takes a very mechanistic approach to understanding how global warming may affect predator-prey interactions and ecological food webs, by studying the effects of temperature on the movement rates of predators and their prey," said Mittelbach.
Twardochleb's research at KBS has explored how climate influences biodiversity, individual physiology, species interaction, and populations and communities, all through small-scale experiments, field sampling, and mathematical modeling. With this Fellowship, and with larger-scale data, she'll have the opportunity to think bigger.
"I wanted to expand my research to look at ecosystems, and how climate influences the distributions and diversity of organisms at a much larger scale," said Twardochleb.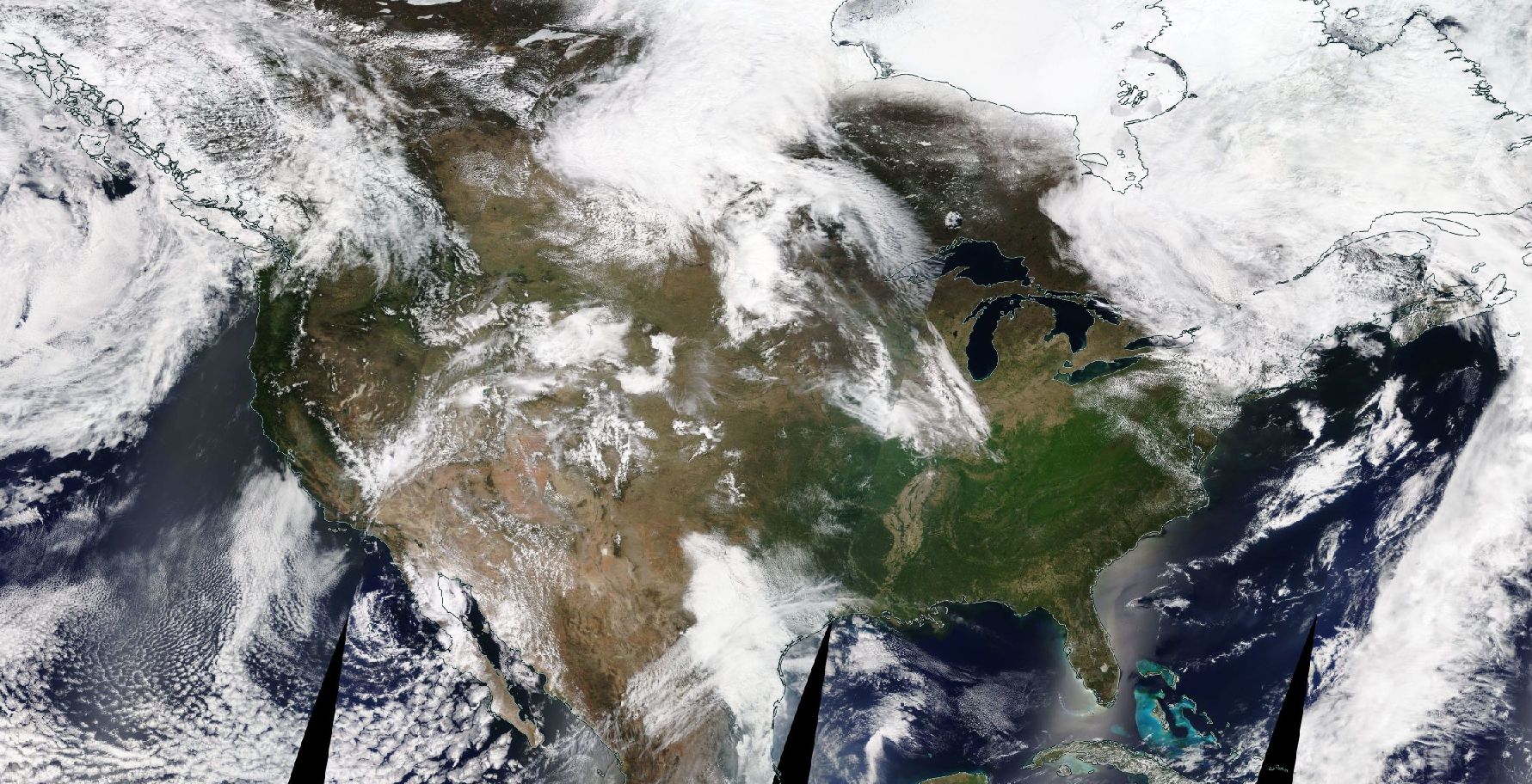 To gain a big picture understanding of biodiversity in the continental US, Twardochleb will use data from federal agencies like the EPA, as well as state and tribal agencies, and from two NASA satellites (courtesy image from satellite Terra at right). Having access to NASA data will allow Twardochleb to map biodiversity across a much larger spatial area than she would otherwise have access to.
Twardochleb investigates biodiversity connections across terrestrial and freshwater environments affected by changes in land use and climate. The national biodiversity data she'll be using will allow her to see correlations between high diversities of freshwater insects and high diversities of birds and spiders, which eat the insects as they emerge from streams. Freshwater insects are also food for commercially and recreationally important fish, as well as indicators of water quality.
"If we can get a better idea of the diversity of freshwater insects, especially the insects that are most sensitive to pollution, across the US, then we'll have a better idea how urban development and agriculture across the whole US is influencing these insects and water quality, and potentially fish, as well," said Twardochleb.
The Fellowship program's purpose is to "to ensure continued training of a highly-qualified workforce in disciplines required to achieve NASA's scientific goals." NASA received 764 applications for the 2017 Fellowship, and selected 69 applicants under the Earth Science Research category, Twardochleb among them.
Twardochleb is a graduate student in the Department of Fisheries and Wildlife in MSU's College of Natural Resources, advised by Phoebe Zarnetske. KBS professor Chris Klausmeier mentors Twardochleb on her committee.