KBS graduate student Bonnie McGill has been selected for a highly competitive postdoctoral research fellowship, which will begin in May following her graduation from MSU.
McGill will be studying how nutrients move through agricultural watersheds in Iowa as part of the David H. Smith Conservation Research Fellowship program, which chooses only 4 or 5 applicants each year nationally.
"I traditionally hadn't seen myself as a conservation biologist. I tended to think of that as more of someone who focuses on a specific endangered or threatened species," said McGill. "But you need clean water in order to protect those organisms of interest and that's always been my connection to conservation."
She will be working with KBS alumni Amy Burgin and Terry Loecke and the Kansas Biological Survey (another KBS!) and University of Kansas to build on over 10 years of existing data from Iowa watersheds using new technologies for large-scale novel results. She'll be examining how conservation practices affect nitrate outcomes for watersheds in agricultural lands.
She and her mentors are exploring how conservation practices, which are voluntarily adopted by farmers, are helping to protect water quality on a regional scale in the agricultural heavyweight state of Iowa. They are tackling big questions that affect things like the size of the Gulf of Mexico's "dead zone," which is the result of nutrient pollution primarily from agriculture.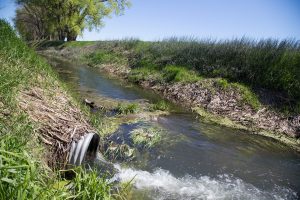 McGill has been working primarily at the LTER site at KBS during her time here in the Hamilton lab, studying biogeochemistry and nutrient cycling at the field scale. In the 2-year Smith fellowship program, she will be zooming out and thinking bigger using tools like satellites for remote sensing.
With her fellowship mentors, she will be using real-time nitrate sensors that can be placed in a stream and pull new data every 15 minutes, resulting in a significantly larger database than would be possible by going out to collect samples monthly or weekly. This will allow them to link variations in that concentration over time with the volume of water that moves through streams, as well as specific rain events.
In addition to her direct work with Burgin and Loecke, she will also be collaborating with Dean Hively of USGS (United States Geological Survey) to obtain satellite images that will let her examine areas using conservation practices like no-till management and riparian buffers. She will also be selecting a mentor to collaborate with from the US EPA (Environmental Protection Agency) and a local agricultural professional or farmer prior to the start of her fellowship.
While the Smith fellowship program will give McGill unparalleled opportunities for impactful research experience, she will also have the chance to grow as a science communicator and advocate for conservation. The Smith program offers multiple professional development retreats for its 8-10 participants every year.
"You get the real research expertise part of things that you need in order to do the science, but in order to be a leader in conservation, you also need to be able to facilitate discussions, and work with people who are not scientists, and understand policy in the world," she said.
The network of current and past Smith fellows available to McGill will provide an ideal environment for her to explore non-professorial career trajectories and establish working and mentoring relationships with a variety of science professionals who work both inside and outside academia while advancing conservation.
"I've been going along and knowing that there are other things I could do outside of academia in science, but not knowing exactly what those are," said McGill. "I'm so excited that this will help me see what those potentially are and learn how I could apply my Ph.D. in a non-traditional way."