G. Philip Robertson, KBS faculty member and University Distinguished Professor of Ecosystem Science in the Department of Plant, Soil, and Microbial Sciences, has been named in the annual Clarivate Analytics list of Highly Cited Researchers List, which recognizes influential researchers around the world.
He is one of seven Michigan State University (MSU) scholars on the list.
The list identifies scientists who have demonstrated significant influence through publication of multiple highly cited papers during the last decade.
Now in its fifth year, the citation analysis is an indication that a researcher's work is influential in their field.
Robertson broadly addresses issues of agricultural sustainability through studies of field crop ecosystems with a focus on ecosystem services related to their productivity and biogeochemistry. The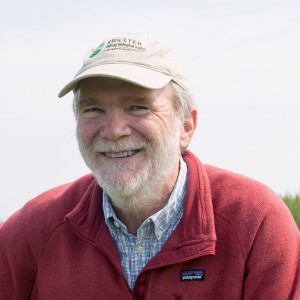 research informs the design of resource-efficient high-yielding cropping systems, strategies to reduce nitrogen pollution from agricultural landscapes, and national greenhouse gas mitigation policies. He is the science director for the Department of Energy's Great Lakes Bioenergy Research Center (GLBRC) and past director of KBS's Long-Term Ecological Research (LTER) site.
Robertson joins MSU scientists Jianguo "Jack" Liu in fisheries and wildlife, Sheng Yang He, Gregg Howe and John Ohlrogge in plant biology, Rufus Isaacs in entomology, and James Tiedje in microbiology and molecular genetics in this year's list. The group represents MSU's College of Agriculture and Natural Resources and College of Natural Science.
This year's list of 6,078 names recognizes world-class researchers for their production of multiple highly cited papers that rank in the top 1 percent by citations for their field and over the past decade (2006 to 2016), based on Web of Science data.
"The Highly Cited Researchers 2018 list helps to identify the researchers who are having the greatest impact on the research community as measured by the rate at which their work is being cited by others and that contributes so greatly to extending the frontier and gaining knowledge and innovations for society," said Annette Thomas, CEO of the Scientific & Academic Research group at Clarivate Analytics (formerly Thomson Reuters).
Clarivate's web site allows users to explore the data further.
This is the first year that researchers with cross-field impact are identified, and is the category in which Liu, Robertson and Tiedje are ranked.
"This year, a new cross-field category has been added to recognize researchers with substantial influence in several fields but who do not have enough highly cited papers in any one field to be chosen," said David Pendlebury, senior citation analyst at Clarivate Analytics. "For example, an immunologist today is likely both a biochemist and molecular biologist, and a chemist is also a materials scientist and even an engineer. Breaking through the artificial walls of conventional disciplinary categories by the introduction of the new cross-field category aims to keep the Highly Cited Researcher list contemporary and relevant."