W.K. Kellogg Biological Station Ph.D. student Kyle Jaynes has done plenty of exploration. But now, he can officially be called an Explorer.
Jaynes, a researcher in the Fitzpatrick Lab, has been awarded a highly competitive Early Career grant through the National Geographic Explorers grant program. The grant, as its name suggests, supports scientists and other professionals in the early stages of their careers by funding their fieldwork expeditions.
Jaynes and his advisor Dr. Sarah Fitzpatrick, KBS assistant professor in Michigan State University's Department of Integrative Biology, have both independently studied wild guppies in Trinidad. Now, they're excited to join forces to conduct fieldwork on Harlequin toads in Ecuador.
As a National Geographic Explorer, Jaynes will lead expeditions to the Ecuadorian Andes in late 2019 and in spring 2020 with Fitzpatrick to collect data for his Ph.D. research on remaining Harlequin toad populations and a main culprit in their decline—the amphibian pathogen Batrachochytrium dendrobatidis, or Bd.
"I am beyond excited to receive this award," says Jaynes. "This grant comes at a crucial time for me to collect data early on for my Ph.D. research, and it is a huge honor to become part of the NatGeo Explorer community."
About the research
Harlequin toads are one of the world's most endangered groups of amphibians, with many thought to have gone extinct in the past two decades. In recent years, several species previously thought to be extinct have been rediscovered; however, the reasons why some species have persisted while others have gone extinct are unclear.
Earlier this year, Fitzpatrick and Jaynes were awarded a grant through a partnership between the MSU Genomics Core facility and Illumina, which provided initial lab work and sequencing funding to examine the genomic patterns underlying the toad populations' declines. The one-year, $8,770 grant from National Geographic will fund fieldwork to further investigate the relationships between the toads' genomic patterns and environmental patterns of Bd to better understand population declines and predict species recovery versus extinction.
Kyle Jaynes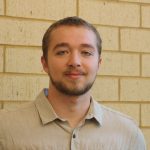 Jaynes is a Ph.D. student in integrative biology and ecology, evolutionary biology and behavior at Michigan State University. He came to KBS to study and work in the Fitzpatrick Lab in 2018. He earned a B.A. in biology and environmental science from Adrian College. His research interests lie at the intersection of ecology, evolution and conservation biology, with a focus on amphibians and reptiles.