My summer at the W.K. Kellogg Biological Station as a Research Experiences for Undergraduates student was a new experience that opened my eyes. I experienced flying and the state of Michigan both for the first time. Before this opportunity, I had never engaged in an independent research project. I interacted with a diverse team of experienced individuals who advised me on my research project. We bonded in the field, in the lab and over food. Over this short period, I became comfortable working independently in the lab or with the team in the field. I also learned a lot about the nitrogen cycle.
Nitrogen, or N, exists in plants and animals—living and dead—as DNA, energy and protein. Plants acquire N from microbial processes in the soil; animals acquire N from consuming plants or animals. Nitrogen is important for life, yet detrimental in excess. While N fertilizer enhances crop production, it can also lead to water pollution and higher greenhouse gas emissions. Therefore, we need to understand more about the N cycle in agricultural and biofuel crops. Specifically, my project this summer examined the effects of wetting and drying on N availability in switchgrass soil.
Research and…carpentry?
My research project required rainout shelters to keep the rain off the fields, and water tanks to irrigate switchgrass at different frequencies. For this experiment, we needed a total of 12 rainout shelters so that we could replicate three different wetting frequencies on four switchgrass plots, but we had to build four since only eight were available. Now, given that my dad is a carpenter, I was aware that construction takes time, but I did not know how much planning actually goes into the building process. It took several hours to construct one shelter with several people, and it was challenging even with directions. My dad enjoys construction because he can witness various parts and pieces form something: I shared that feeling after the second shelter; it is pure satisfaction!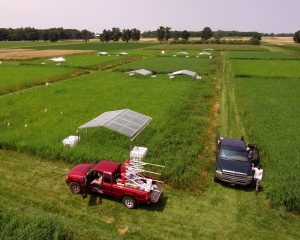 The water tanks, for whatever reason, were particularly attractive to animals. Before the experiment began, we discovered a strong smell coming from one of the tanks despite the fact that they were empty and cleaned the day before. To my surprise, we found two dead rats. It is still a mystery how the rats were able to get inside of the tanks. This should have been the final incident with deceased animals, yet it surprisingly was the first of two. About a month into the experiment when the tanks were filled with water after collecting rainfall, we found a total of about 15 dead starlings in various tanks. We then had to fish these birds out of the tanks since it wasn't possible to replace them. This had to be the most surprising part of this experiment given that it had been bird-free for nearly a month before this occurrence.
Tedium and joy
Certain aspects of my research project that were draining while others were joyful. Sieving soil cores is the process that I disliked with a passion. Although it was relaxing every so often, it was tedious and extremely boring. On the other hand, washing dishes and collecting resin strips, which measure nitrogen availability for my experiment was soothing and joyful. I also became more comfortable around bugs. Before, I had a slight phobia of insects and spiders but being around these little creatures everyday allowed me to be more comfortable with their presence.
My time in Michigan was a blast from move-in day to move-out day. I met so many wonderful people while networking and making connections, including individuals from Michigan, California, Texas, Ohio, Massachusetts and Indiana. During this time, I grew more aware of different cultures and backgrounds. Opening my mind through these interactions has fostered my desire to learn about other people near and far. There is so much diversity in the world, and I was able to witness everybody coming together to achieve a shared goal. I was supported by my team and peers to strive for conducting the finest research—when things went wrong and when things went right.
~~~~~~~~~~~~~~~~~~~~
Jabarius Jones is a senior at North Carolina A&T State University, studying animal science and Spanish. His KBS mentors were Drs. Phil Robertson, Sarah Roley and Carmella Vizza. His KBS summer experience was made possible with funding from the National Science Foundation, Dr. Sarah Roley, and the George H. Lauff Scholarship Fund.