The results of a 2019 study, recently published in the journal Ecology and Evolution, offer some understanding of the long-term effects of genetic rescue in favorable environmental conditions.

The study, led by KBS researchers Madison Miller and Dr. Sarah Fitzpatrick, sought to determine what effects, if any, previously augmented gene flow had on individual fitness in small populations of Trinidadian guppies (Poecilia reticulata) placed in a nutrient-rich environment. They also were interested in whether these population-level effects made an impact on the ecosystem. The experiment, conducted at the KBS Experimental Pond Lab, involved tattooing hundreds of fish and studying their growth rates and reproduction, in addition to several ecosystem processes like decomposition.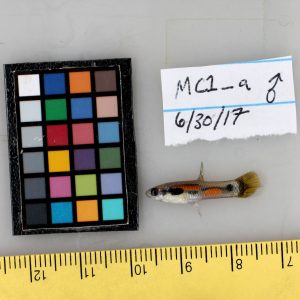 The study results suggested that gene flow contributed to increased size of individual guppies, had varying impacts on the two geographically distinct populations with respect to population growth rates, but little-to-no effect on the measured ecosystem variables: zooplankton density, algae growth, and decomposition rates. Thought to be the first study to examine ecosystem-level impacts of gene flow, its results set the stage for further inquiry.
"We were surprised to find benefits of gene flow, even in high-resource environments, says Fitzpatrick. "Most studies of genetic rescue have shown early-generation benefits in stressful environments, but this suggests the variation provided by gene flow might help populations take advantage of good environments as well."