This summer was a whirlwind of unusual virtual meetings, from participating in a remote Research Experience for Undergraduates program to presenting at the 2020 Ecological Society of America, or ESA, from my living room.
Remote research experiences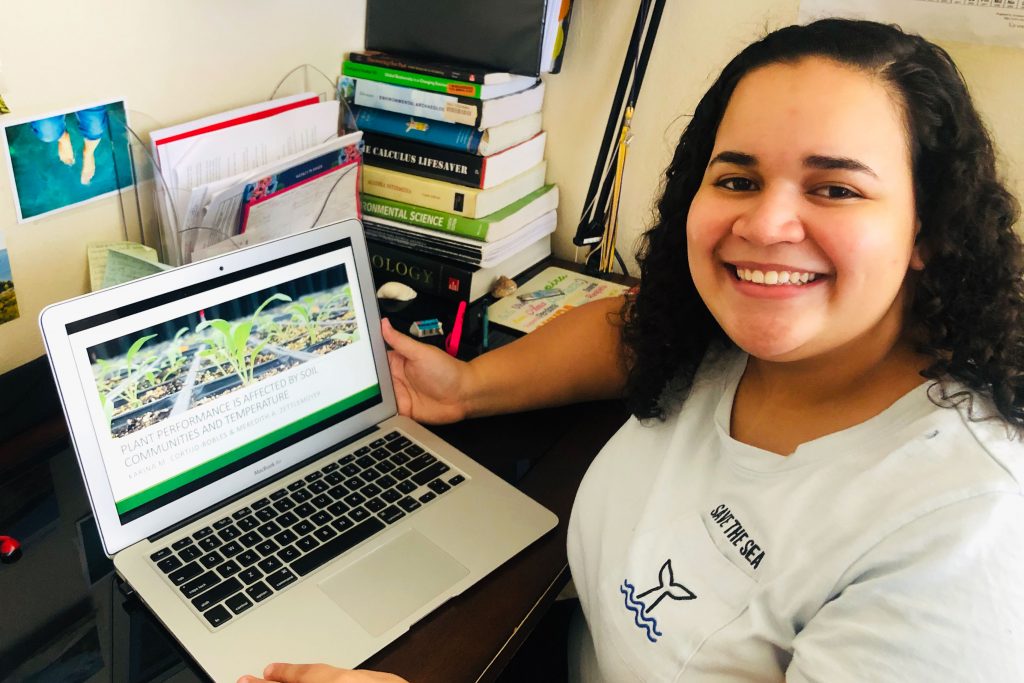 Last summer, I participated in my first Research Experience for Undergraduates—REU—program at the W.K. Kellogg Biological Station, or KBS. It was a wonderful experience that helped me define my professional goals: to combine environmental sciences and archaeology to study the impact of human beings on the environment and find solutions for today's environmental problems. Thanks to my SEEDS Partnerships for Undergraduate Research Fellowship, I had the opportunity to present my research at the 2020 ESA Annual Meeting.
To prepare for my first national conference, I "returned" to KBS for two weeks as a remote REU, or rREU, which allowed me to work virtually with my mentor to finish the data analysis and create my talk for the annual meeting, which focused on how climate change affects the relationship between plants and their soil microbes. As part of my rREU, I also attended KBS's virtual Professional Development seminars, which were incredible. I was inspired by the career panels, as I was always amazed at how people with a bachelor's degree in environmental sciences or biology could be editors or work in other non-traditional careers, like a scientist for the Field Museum.
Due to the increase in COVID-19 cases, the ESA organizers decided that for the first time the annual meeting would be virtual. My initial reaction was a combination of surprise, disappointment and fear, because this was going to be my first-time attending ESA—one of the largest annual events in the field of ecology. Now knowing my professional goals, I had hoped to network with ecologists working in environmental archaeology and paleontology. Even with all these emotions and doubts, I decided to register for the meeting and hope for the best.
The ESA meeting
The weekend before the meeting started, all the posters and recorded talks were already available on the event website. ESA also organized discussions, question-and-answer sessions, and other live Zoom events. I started looking for the talks that interested me and quickly grew a bit overwhelmed. There were so many talks and events in just four days.
My first thought was that no one would see my talk or ask me about my research. But the scariest thing was that I probably wouldn't be able to network with anyone! I immediately talked to my mentors, asking them how I could make this experience one that was truly rewarding and that would help me grow professionally. It turned out that my REU mentor had unknowingly answered my question a year ago when she suggested I create a professional Twitter account to share news about science and outreach. At that moment I understood that for this meeting my key to networking and promoting my research would be social media.
Thanks to Twitter, I managed to promote my research, answer questions, and engage with others' work. I connected with undergraduate and early-career students studying marine ecology and plant disease. I was able to contact different paleoecologists and paleontologists, since that field interests me for my future studies. I found out about different opportunities within paleontology and am already beginning to apply. Without a doubt, I can say that #AcademicTwitter help me to engage and enjoy the virtual 2020 ESA Annual Meeting.
~~~~~~~~~~~~~~~~~~~~
Karina Cortijo-Robles is an undergraduate student at the University of Puerto Rico, Río Piedras Campus, studying environmental science and anthropology. Her KBS mentors were Meredith Zettlemoyer and Drs. Kay Gross and Jen Lau. She returned to KBS this summer–virtually–for a remote research experience.
~~~~~~~~~~~~~~~~~~~~